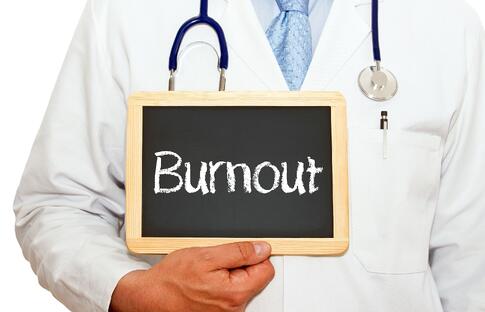 I recently stumbled across an old episode of the Candid Camera show, which featured a woman driving a car with no engine. She pulls in to a gas station by coasting down an adjacent hill. When the dead vehicle comes to a halt at the station, the woman gets out and complains to the mechanics that it won't start.
One of the mechanics looks under the hood, and to his surprise, finds a gaping void. "The reason the car won't go is you ain't got no engine," he says. Another mechanic peers into the vacant space where the engine should be, scratching his head. The driver tells them the car has been working fine.
NO GET-UP-AND-GO
It reminds me of what happens to people whose engines have vanished, their get-up-and-go extinguished by burnout. Burnout doesn't just kill physical vitality, motivation, and any semblance of work-life balance, it also guts the entire internal combustion machinery. You can't get the ignition to turn over, because there's nothing to turn over.
Unlike with the gag car, we can't look under the skin and spot the problem. But the void is as real as inside that vehicle, and we have to recognize it and resolve it or pay with serious consequences for work, health, family, and life.
In an always-on world, many will face burnout at least once in their careers, and once they do and recover from it, they will never go down that road again because of the misery it inflicts on every part of work and life. Burnout can lead to major health issues, from stroke to depression.
I have coached hard-working people with burnout around the country and the world, and helped them recover from burnout. What they all say is that feeling exhausted and without energy or drive is an alien feeling to them. This is because people who get burned out are not slackers—they're the hardest workers.
Burnout isn't just being very tired, which it is (the main dimension is exhaustion). It's a serious medical condition that can set off other problems—depression, stroke, heart attacks, suicidal thoughts, breakdown. The last stage of chronic stress, burnout occurs when all your energetic resources—emotional, physical, and mental—have been used up.
With no resources left to counter the catastrophic thoughts of stress, it's hard to contest false beliefs triggered by an ancient part of your brain that thinks you are about to die. Instead of being able to marshal analytical thought or physical willpower to fight back, there's nothing, a void where the engine used to be. That feels very odd and fragile to people who have always had the ability to bounce back.
DIRE THOUGHTS
Burnout is a cumulative process, in which the alarm signal of stress goes off day in and day out for a long period of time. The stress response is only supposed to go off for a brief time until you can fight or run your way out of danger, because the processes it sets off are extremely harmful in large doses.
The stress response suppresses the immune system, tissue repair, and digestion processes to focus on its task to drive blood to the arms and legs to fight or run from danger, so the longer chronic stress lasts, the more damage it does to your body and the more resources it depletes. The stress response increases the bad cholesterol and reduces the good kind.
The usual response is to soldier on, but that doesn't work with burnout, since by the time you have it there are no coping resources left. You're left with severe fatigue and feeling that nothing really matters anymore—job, success, people you know, everything. You don't care anymore.
The way out of burnout is to reach out. When we are sick, we go to the doctor, but when it comes to stress and burnout, we are reluctant to get the expertise to get healthy. Studies show that one of the most effective ways to overcome burnout is through stress management coaching and programs. The courage to reach out unlocks the door to restoring health.
Stress and burnout thrive on silence, not saying anything, because the engine of it all is thinking and rumination. It's ruminating over and over about a stress trigger that keeps the perceived danger alive and making your organs work overtime, even when you are sleeping. If you have burnout, I strongly urge you to reach out. I offer a free burnout consultation.
When you are burned out, someone who has always hurled themselves into their work can't bear the thought of working. For people who have defined themselves by performance, it feels shameful. But it's not. It's a physical condition that has to be dealt with in the same way as other serious illnesses, by rooting out the cause and rebuilding the body and mind.
Persistence is a great trait, but not at the expense of your health. Let's take a look at seven key burnout symptoms that need to be recognized and acted upon to prevent a cascade of physical and psychological issues and bring back the joy of living.
7 MAJOR BURNOUT SYMPTOMS
1. Severe exhaustion. You can barely get up in the morning. There's no desire to do anything that involves effort. Just the thought of work, of doing what you do well but have overdone, can make you physically sick.
2. Excessive workload. Long hours drive stress and prevent the body from physical recovery and the mind from replenishing mental resources. The risk of heart disease triples for people who work more than 51 hours a week. Chronic overwork leads to little sleep, bad diet, no exercise, and unrelieved stress that drains coping resources and resentment that feeds cynicism. Even if you love your job, do too much of it, and you'll hate it.
3. Cynicism. There seems to be no point to anything, no sense of accomplishment anymore. What used to fuel you—pride, service, ambition, challenge, even money—seems meaningless. Belief, in the profession, achievement, anyone else, it's pointless.
4. Emotionally draining work. Burnout was first identified in social workers whose clients and large case loads burned up excess emotional resources. If your work involves intense emotional demands and heavy workload, and there's nothing to replace those resources or help cope with them, the constant demands can lead to any number of issues, from cardiovascular disease to nervous breakdowns. Please reach out if you are in this danger zone. You can't help your patients or clients unless you help yourself.
5. Absence of positive emotions. This is one of the hallmarks of burnout. A brain on chronic life-or-death watch from chronic stress fixates on the perceived emergency, on threats, resentments, problems. Even what you used to enjoy outside work feels meaningless. Negative emotions crowd out the positive emotions needed for proactive measures to stop burnout.
6. Catastrophic thoughts. Burnout leads to dire thinking. It colors everything dark and strips away the will and effort to change the situation. It sets off awfulizing and worst-case scenarios on a grand scale. "I can't do this job anymore." "I won't be able to take it." "Why bother?" It's all coming from an ancient part of your brain that doesn't know how to interpret the social stressors of the modern world. It feeds false beliefs, and there are no coping resources left to fight them.
7. Depersonalization. The mental and physical exhaustion of burnout drives cynicism and detachment from others. We wind up in a classic burnout symptom, depersonalization, withdrawal from colleagues, friends, and even family members. This is obviously bad for rapport with coworkers, clients, or patients, and it's bad for you, because it isolates you from the support needed to overcome burnout.
Burnout can happen in any industry, from the legal world, to engineering, to healthcare, to administrative assistants who work for nonprofits or even churches. Take proactive steps to reach out. Burnout can seem like the end, but it's not. With changes to how you work, think, and take care of yourself, you can make a complete recovery and, by focusing on better work-life balance in the future, put the engine back under your hood.
Learn about our stress management and burnout prevention coaching by clicking on the button below: