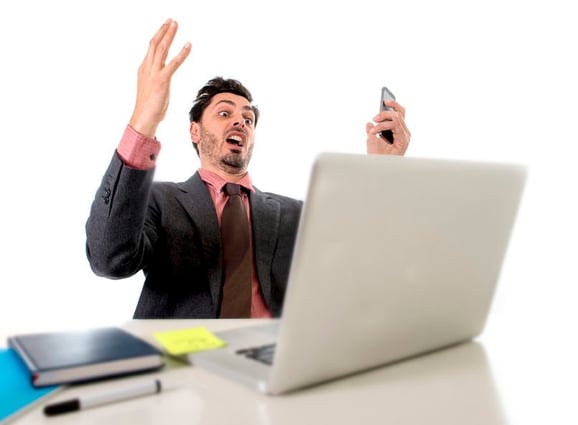 Too much to do, not enough time. It's the refrain of the crazy-busy age. But what if it wasn't true? What if we had the time, but we weren't using it properly? Studies by Geoffrey Godby and John P. Robinson (no relation to me) have found that we have more time than we think. It's just not organized.
Organizing time isn't just a case of savvy calendaring and prioritizing. The bigger hurdle takes place at the psychological and emotional level, in the beliefs we tell ourselves about the time we think we don't have and the perceptions those thoughts lock us into.
THE MENTAL BLOCK OF "BUSYNESS"
Time operates on two levels—Greenwich Mean Time and the state of mind that interprets the world in temporal terms. The latter is the hidden key to time management and exiting the chronic frenzy and frazzle that happens when we confuse "busyness" with productive endeavor and make it our very identity. The "I'm too busy" mental block subverts time management and productivity on all sides.
If you tell yourself there's no time, there isn't any. If you tell yourself "I'm too busy," you are. You're too busy to have that extra conversation you need with a colleague, too busy to sit down for 15 minutes to plan priorities, too busy to get the recharge time to deactivate tension, too busy to understand the self-infliction of busyness.
In an unbounded, always-on world, it's easy to get caught up in busyness. Yes, there is a lot to do, but we don't have to do it all at one time, feel besieged, juggle all the to-do's inside our head, default to terminal multitasking mode, or rush all day. Mental racing tells a part of the ancient brain that every minute of the day is an emergency. That turns on the danger signal of the stress response, i. e. fight-or-flight, and the false belief that we have to do everything faster than we're doing it, or it will be Apocalypse Now.
EFFECTIVE PACE
Without stopping to think about what we're doing, whether it's a priority or not, and when the best time to do it is, the default is to action, uninformed, reactive action that drives frenzy. The first step to time management, then, is a conscious mentality of effective pace. We have to step off the runaway train and put the conductor back at the cognitive wheel.
As Daniel Kahneman reports in Fast and Slow Thinking, time pressure makes us do stupid things. We default to what he calls System 1 thinking—reactive, instinctive, making decisions not based on analysis or facts but on rash diagnostic bias, what appears familiar, or the last thought in our head. Time pressure impairs cognitive ability and fuels bad decision-making.
Obviously, there are deadlines that have to be met and urgent issues that land on our screens that need quick turnarounds. But when time pressure extends beyond due dates and immediate tasks to all the time, even at home, it can lead to perpetual time urgency. This drives a fixation with the passage of time that makes every task an emergency.
But it's not. It's false urgency, since the emergency your outmoded brain misinterprets is that you are going to die. You may have 200 emails, but you're not going to die from them. Since time frenzy activates the stress response, it's no surprise that studies show that time urgency is a heart attack risk. The pattern goes: Impatience leads to irritability, which leads to anger and clogged arteries. Unconscious speed mode undermines performance, rapport, and health.
THE SPEED TRAP
It's a speed trap. Nonstop motion makes everything appear urgent when we haven't taken the time to think about what is urgent and what isn't. The way out of the frazzle and the first step to time management is to stop the busyness long enough to regulate pace, qualify urgency, prioritize, and change our perception of time and ourselves.
That means untangling identity from the reflex of unconscious busyness and redefining where true productivity comes from. When someone asks how we are, the tendency is to blurt out: Busy! Even if we're not. Busyness has a habit of becoming ingrained with who we are. We wind up identifying as a person constantly in motion. Say "I'm too busy" often enough, and that is who you are.
Yet productivity is not a function of how busy you are or of constant commotion. Rote busyness is simply mechanical momentum, movement without an understanding of whether the commotion is moving things forward, without knowing where we are going or why and that we are creating extra work and stress by rushing through it.
It's mobility that we want, not a badge of busyness and being able to say how swamped we are, which only intensifies time anxiety. Mobility comes from the opposite of hyperventilation—reflection and focused attention on the task, not the clock. This places us in the moment, instead of having to keep a part of our brain on the finish line. We get the work done faster without the ticking time bomb of the clock.
TIME MANAGEMENT IS ATTENTION MANAGEMENT
The perception of time changes from tormentor to friend when we take a breath to see what needs to be done and why at a given moment. When you set terms of engagement with tasks, you are in control, instead of a fearsome deadline or stack of to-do's. The more you can be absorbed in what you are doing in the present, you remove the oxygen of time panic, which is agonizing about the future, a tense you can never be in anyway.
Time management boils down to attention management. If you are truly paying attention and not self-inflicting time stress by checking clocks or allowing unbounded distractions, you stay focused on the task you're on. Attention comes from focus on a target. Trying to pay attention to multiple targets through multitasking or keeping to-do's circling the mind like jets at LAX accelerates time tension and the chances of making a mistake while rushing.
So how do you or your team manage time, instead of being run by default fight-or-flight? It's a daily practice, since the accelerators of time frenzy are all around us—emails, instant messages, texts, and the influence of others flying on hyperdrive.
We pick up on the emotions and expressions of others through mirror neurons. We have to make conscious choices to resist false urgency, our own and that of others. Here are a few keys to time management we don't usually hear about:
"I'm too busy" is a story, not your identity. Getting things done is the goal, not nonstop commotion.
Stop, pause, and target attention. If you're rushing for no reason, stop and stare at the clouds in the sky, or put on some music. Target your attention on something else. That breaks up the time frenzy entrainment.
Restrict the amount of self-deadlines. We drive a lot of stress by setting arbitrary self-deadlines for this task or that dry cleaners that no one is holding us to. Avoid setting yourself up by seeing these targets as more approximate deadlines.
Limit clock-checking. Each time we check the time, we self-inflict time stress and an interruption.
Resist the hurry-worry of others. Choose not to accept the time frenzy of others. "Yes, I see they're freaking out, but that is them. I will not react."
Do time estimates of all your key tasks. It's easy to be overly optimistic on turnaround times. Analyze how long it takes to do each of your main tasks. When you take an assignment, you know how much time to budget for it.
A classic false belief of the "I'm too busy" mindset is that, if you pause or even slow down, then you will fall behind. In fact, an effective pace insures that you won't have to do everything over again by making the mistakes that come with rushing. It's mechanical busyness, without thought as to where the busyness is going, that undermines progress.
Busyness and the time frenzy it fuels also do something more insidious. They make it impossible to savor accomplishments, since you have to instantly move on to the next thing and next thing on a treadmill that never ends to keep from falling behind the self-inflicted schedule.
They also make it hard to carve out time for your life, because you are always too busy to step back from hyperdrive.
If you would like details on our work-life balance, time management and productivity trainings, click the button below.