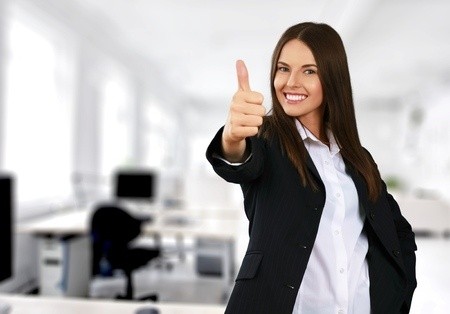 With only 29% of American employees engaged at work, it may be time to take a page from professional sports teams to boost morale. Hire a composer to write a company fight song. Deploy cheerleaders to the hallways and lunchroom. A bucket of chilled Gatorade over the head of someone who's done especially good work might stimulate team spirit. Or might not.
The sports world seems to know how important it is to keep the troops' morale high, the business world less so. Aside from the rare thank-you note or gesture of appreciation, there isn't a lot of thought put into building employee value, motivation, and commitment. If there is a focus, it's on the wrong kind of motivation—carrot and stick, proven by a host of researchers, such as Edward Deci and Richard Ryan at the University of Rochester, to be demotivating.
The cost of the morale problem is huge, $300 billion in lost productivity every year, according to Gallup, not to mention the impact it has on retention, customer relations, innovation, and internal conflict. When engaged employees go the extra mile, they are 28% more productive, one of the many reasons employee engagement training programs, such as our program, "Supercharging Engagement," are so crucial. Studies show people can go from active disengagement to full engagement when you change how they think about their work.
EXTERNAL IS EPHEMERAL
There are plenty of reasons for sagging morale—undelivered promises, lack of support, absentee managers—but the main reason is that few know where good morale comes from. Most of us have been operating in the dark when it comes to human motivation and need gratification, what it is that people need as opposed to want.
That's not a surprise, since the culture tells us there is only one choice for motivation: the external kind—money, success, promotions, status, popularity. All of these intensely sought-after goals are based on the approval of others. They give us a quick bump in satisfaction before it vanishes like the last bite of cheesecake.
External motivation doesn't last because it doesn't validate us internally. It's about what other people think, not you, and that's very ephemeral. Opinions can change from moment to moment. You might get raves today, static tomorrow.
Research shows that the thrill of a job promotion, for instance, only lasts two weeks. Sorry about that. Then you return to however you felt before the promotion. We habituate to the new status, it becomes normal, and then we want more. It's called hedonic adaptation. We are born to tire of even the best of fortunes and changed circumstances. Lottery winners revert to how they felt before they won the money (Diener).
What really drives humans is the self-propulsion engine driven by what is known as intrinsic motivation, acting for no outer payoff or pat on the back. The reward of intrinsic motivation is felt internally in the act of the experience itself. Deci, Ryan and a host of colleagues around the world have shown that intrinsic motivation is the most potent motivation and the one every manager and employer should want to stimulate.
ACTING FOR DEEPER GOALS
Why is intrinsic motivation so effective at increasing employee morale? Numerous studies in cultures across the globe have found the power of intrinsic values to increase self-esteem, well-being, positive mood, and vitality, all of which lead to more engagement.
Vitality is the key dimension of engagement: physical energy. Act for internal purposes and you get the best return of all, satisfaction, says Kennon Sheldon of the University of Missouri. He calls that dividend "self-concordence," when we are acting for deeper goals or aspirations that are aligned with who we are.
Intrinsic motivation is subtle, but it's not completely out of our orbit. It's the basic urge behind anything we do for fun, to learn, or challenge ourselves. When people operate from intrinsic goals—inherent interest, excellence, craft, challenge, learning, not for an outside payoff—they like what they're doing more, remember it longer, and have full engagement in what they're doing, research shows. One study found that "intrinsically motivated employees are continuously interested in the work that they're doing" (Harackiewiez and Elliot)..
What kind of difference could that make for your organization if everyone was absorbed in what they were doing? One of the most powerful elements of intrinsic motivation is its staying power. Studies show that if you are involved in anything that's difficult or that requires persistence, intrinsic motivation is more effective in keeping you at it. Intrinsically motivated musicians and dieters who are in it for learning, the music itself, a healthier life and personal growth, not because others are forcing them to do it, stick with it.
CHANGING HOW WE THINK ABOUT WORK
Intrinsic motivation is powerful because it goes to the heart of human need satisfaction. What do we need? For most of human history, we haven't had a clue, but over the last three decades researchers have found that when we act for goals that help us feel self-driven, competent, and connected to others, we feel gratified. People want to have a sense of choice in how they do their work, the opportunity to take on challenges that make them feel effective, and to collaborate with others for a larger purpose.
Employees want to participate and contribute because they have to. It's in the genes, part of a powerful self-initiative drive that will be left on the table if it isn't coaxed out. How do you unlock this morale-booster? You can't command employee engagement. You can only enable it by unleashing the employee's own inner drive to excel, learn, and make a difference without regard to external payoff. It's a process of changing how employees think about the work they do, and that requires a more collaborative approach. Here are a few tips on how to build morale through intrinsic engagement:
1. Increase choice in how people do their jobs. Choice makes people feel more autonomous and effective, which boosts satisfaction and commitment. We all have a job we have to do. How we do it, though, leaves room for adjustments. Let employees suggest ideas for improving bottlenecks, information overload, and task processes. Delegate decisions, not just minor ones.
2. Meet staff regularly. Employees with the worst engagement have managers with no time for them. On the other hand, 87% of those with the best engagement know their managers well (Blessing White).
3. Encourage innovation, input, and other viewpoints. Allowing employees to generate new ideas, even setting aside time to work on extra projects of interest (as Google employees do), and open communication let people feel they are contributing and are a valued part of the team.
4. Promote meaning. Why is your staff doing what they're doing? Who is the customer and what's the value that employees are providing? Detail the vision behind the work, the larger purpose, and build a noncynical climate.
5. Find ways to keep people learning and growing. Development programs are a key lever of employee engagement and morale. Give staff time to learn new things and improve knowledge through employee trainings, and they can feel something at the top of the job satisfaction charts—progress. We are programmed to learn.
6. Offer positive and informational feedback. Pressure and threats make people resist, which isn't conducive to extra effort. Language that reflects options and offers positive feedback helps employees feel self-responsible. Offer rewards as appreciation, not incentives. Acknowledge skills, which is a big nod to the person's competence need—I like the way you did this/solved this.
7. Encourage staff to set challenging goals and the latitude to accomplish them. The more you can harness self-initiative, the more you increase the sense of value employees feel, which is great for morale.
Building employee morale is about allowing staff to feel enfranchised and involved in the pursuit of goals that tap into the intrinsic engine within us all that wants to do better, dig deeper. Harness it, and your employees get an internal bucket of Gatorade to celebrate progress and success.
If you would like to unleash the engagement on your team with an employee training, click the button below for details: