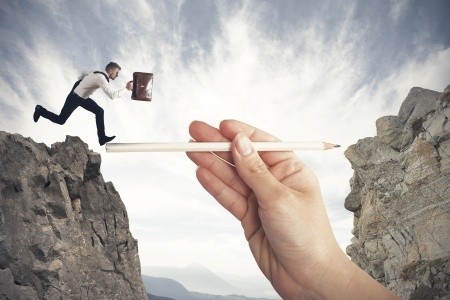 If there are two words that sum up the central challenge of work and life, they are these: "Don't panic!" That is because resisting the urge to react in a way that sets off the stress response and renders our brain's decision-making faculties stupid goes against our design as emotional creatures.
We are programmed to react before we think. A couple hundred thousand years ago early humans couldn't be relied on to think their way out of a jam—we didn't have the higher brain organs yet, so we had to rely on primitive mechanisms that allowed the emotional part of our brain, the amygdala, part of the limbic system, to call the shots any time we were threatened. The same is true today, even though we have vastly souped-up cognitive equipment. When demands overload coping capacity, the amygdala takes charge again—and rationality goes AWOL.
THE REACTION REFLEX
It's just one of the many reasons why every individual and organization has to know how to manage reactions, and by doing so manage stress in the process. It's an essential work-life balance tool. The reaction reflex sets off rash, hare-brained, panicked decisions, crisis mentality, vengeful behavior (fight), and, of course, flight in the form of people quitting their jobs. Forty percent of job turnover is due to stress. Along the way, the emotional reaction of stress drives insomnia, cardiovascular issues, depression, and a host of other costly conditions, not to mention the fact that it's contagious—spreading stupidity around the office.
Ignoring the problem makes it worse, since stress thrives on being unchallenged as the false belief it is. Stress management training gives employees tools to contest stress and the faulty ancient brain mechanism that keeps us reacting emotionally. The reality is we have 21st century brains and a cerebral cortex to think through a setback and do something that completely flummoxes the caveman/woman brain that wants us to go nuts several times a day: not react.
If we don't react when pressure builds, and we consistently let off steam from that pressure cooker in the form of stress reduction practices and recreation, we are in charge, not an artifact from early homo sapiens. The art of nonreaction is the key to managing setbacks, expectations, and just about all the other flashpoints and struggles of life. It's an amazing ability that can transform our lives from fear and loathing to the confidence that we can deal with whatever comes our way.
BLIND EMOTIONS
When something happens that overloads the coping equipment, the goal is to not react blindly to it and buy the emotions that are coming from a bogus life-and-death story in our caveman/woman brain. Instead, you actively don't engage with the reaction. You know the situation is temporary. You'll get through it.
Yes, you might have 200 emails, but you can handle it. You're not going to die from them. Yes, you are caught in a major traffic jam, but freaking out and racing down the median in flight mode to escape the herd is not a smart decision.
I watched a huge collision that happened when two drivers panicked and listened to their ancient flight buttons. A compact car two vehicles up from me on a gridlocked avenue swerved into the median to escape the traffic and go in the opposite direction, where there was no traffic. At that same instant an SUV came barreling up the median, and—crunch—two cars totaled, with who knows how much physical damage to the drivers. All because they reacted before they thought.
Stress management training teaches participants how to override the ancient machinery that desperately wants us to go crazy when something happens that we don't like. It shows how without the reaction there is no stress. It's not the deadline or what somebody says that drives stress—it's our reaction to those events that causes stress. It's the thoughts that arise from the emotional reaction, the story we tell ourselves about the stress, that creates the stress.
DON'T TAKE THE BAIT
How do we change such an ingrained behavior? Instead of letting a story fanned by irrational emotions run you, the trick is to shut down the storyteller. There is no story, just the frame you put on it. You are not going to die from the stress trigger, and you don't have to be manipulated by it. You can catch yourself as the emotions go off and bring back your 21st-century faculties.
This neutral approach allows you to not take the event personally, since the emotions of that default are a mega-driver of stress. The task is to simply observe the situation, the thoughts, and not engage with them. Let them slosh into your brain and slosh out again. You aren't going to fall for it.
Nonreaction is a superb weapon against ourselves, against all the ways that we set ourselves up for failure because our expectations aren't met, or we aren't perfect, or things don't work out. The art of nonreaction prevents us from getting too high or too low. You cut off the pattern as soon as it starts. No, I'm staying neutral. I'm not taking the bait. You resist judgments about the event. You're not going to get tangled up in its effect on your ego, a trigger of so many of these emotional wildfires. You aren't taking sides.
It's a great feeling to know you can't get pushed around by yourself, that you are in charge of your own mind. It's a state of being jaded to the manipulation that has happened so many times before. We are on to it, to ourselves, to the buttons others push.
You and the people in your organization or team can be on to this toxic saboteur too, leaving dramas, unmanaged demands, frenzy, conflict, and poor performance behind. Being able to control this reflex with nonreaction is one of the most useful things in the life arsenal, and the earlier we learn it, the quicker we can get it out of our own way.
If you would like more information on our stress management programs, click the button below for details.