WORK-LIFE BALANCE STARTER KIT
Is YOUR TEAM RUNNING ON EMPTY? Need a Work-life balance program but don't know where to start?
The right work-life balance training program can give your team tools to manage stress, overwhelm, frenzy, and an always-on world, and dramatically increase engagement.
Use our five-step Work-Life Balance Starter Kit to get things going. You can download our work-life balance survey, get the best business arguments for a work-life program, and learn how to get a work-life program supported and greenlighted.
5 WAYS TO JUMP-START WORK-LIFE BALANCE
1. Do a Survey: Download a Work-Life Survey

Demonstrating the need for a work-life inititiave with a survey can be a great start. Low work-life survey scores are one of the most frequent reasons organizations come to us in search of a training program for their staff. You can do your own survey using our "How to Do a Work-Life Balance Survey" ebook, which has 20 questions covering the key hot-button issues. You can post the survey on Survey Monkey for anonymous results--or contact us, and we can set up the survey for you..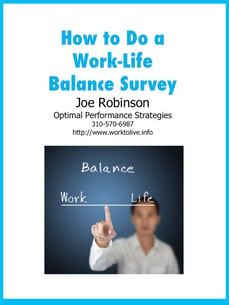 f
2. Get the Top 5 Arguments for Work-Life Balance

Work-life balance has a host of benefits for employers. A survey from the Corporate Executive Board found that people who feel they have good work-life balance work 21% harder than their colleagues. Make a great case to your leaders with the Top 5 Reasons for Work-Life Balance—productivity, increased revenue, improved retention, more engagement, and increased wellness and reduced health costs.
For anyone who wants to optimize performance and revenues—from better time management to wellness to creating a great recruiting tool, the top five arguments spell it out. Click the button below for the whole article and delve into more data on our Work-Life Balance Research page.
3. Sell the Performance Improvements of WLB
Work-life balance doesn't just make employees feel they can manage their lives better. The best work-life balance programs, for instance, give your team tools to work smarter and more effectively, driving stress down and productivity up. What are the bottlenecks on your team? Email overload? Time frenzy? Interruptions and distractions? Show leaders the process improvements work-life balance can bring. Here's a partial list. Participants get tools to:
• Control email and information overload
• Increase teamwork
• Improve time management
• Manage interruptions and distractions
• Build time estimation skills
• Get more done faster
• Reduce crisis mentality
• Increase focus and attention
4. Start at the Team Level

It's great if you can get a work-life balance training program initiated for the whole company, but if not, start smaller—with your team. Many of the trainings we do are driven by individual managers who want to vitalize their teams or by people who are part of groups within the company with a special interest in work-family, such as wellness committees or women's support groups. Start small, demonstrate the impact the program can have, and you can kick off what happened at IBM research after one of our programs, when other departments wanted to get in on the fun.
5. Reach Out to the Right Work-Life Partner

We're here to help support you and your staff along the journey to a great work-life balance event. Our expertise in working with a host of companies, big and small, from Nestle, to Budweiser, to New York City Public Health, gives us the experience to make your event a resounding success. Our focus is not generalities or platitudes, but on specific, research-based tools your team can put together right away in a fun and interactive presentation. Check out our Work-Life Balance page for details.
.
"I learned so much."
Participants react to Joe's program.
Revitalize Your Team with Work-Life Training

Work-life programs create healthier work practices, more space for responsibilities outside the office, and people who feel they are valued and supported. The research shows that means better performance and attitude. Click the Meeting Planner button above amd visit the Work-Life Balance page and learn how much healthier, focused, and productive your team can be. Revitalize your organization with the best tools science has to offer.