Speaking & Training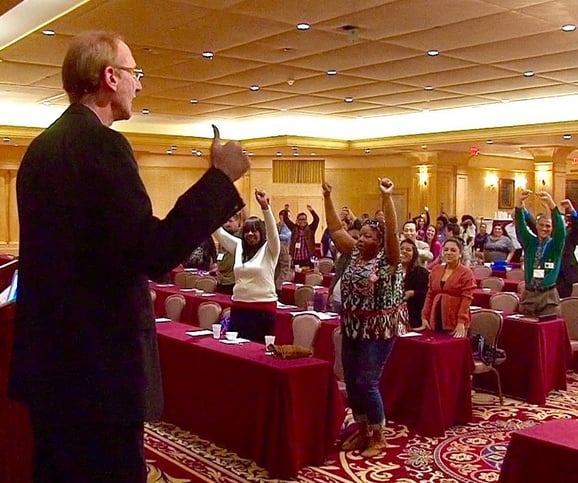 Work-Life Balance Keynote Speaker and Trainer Joe Robinson Inspires Your Conference, Training, or Meeting
"The most popular talk we've had in years." — Shari Morwood, VP, IBM
Get Your Group Engaged, Motivated, and on Their Feet
Yes, there is a lot on everyone's plates these days, but work-life balance and stress management leader Joe Robinson gives your group the skills to take care of it all with tools vetted by the productivity research that increase effectiveness, decrease stress, and build resilience.
Featured on CNN, Today, and All Things Considered, Joe has brought his message of proactive self-management to overwhelmed audiences from New York to Los Angeles, and Mumbai, India to Bogota, Colombia, blazing a path to work smarter and live better.
Inspire Your Team to Manage Any Challenge
"You changed my life!" That was the reaction of Meena Dayak, VP of Marketing for the National Council for Behavioral Health, to a presentation from Joe Robinson that she booked for their annual conference. Participants leave Joe's programs empowered with proactive strategies to solve tough pressure points.
A productivity and stress management leader whose articles have appeared in the Los Angeles Times, Entrepreneur, Fast Company, and many others, Joe Robinson guides your group through the adjustments that turn down stress and turn up performance—from time management, to stress management, information overload, interruption management, doing more with less, and work-family issues.
Author of the acclaimed Work to Live and Don't Miss Your Life and one of the nation's top keynote speakers, he gets everybody involved with a fun and interactive presentation.
Evidence-Based Tools to Work Smarter, Live Better
Joe's keynotes and trainings make work and life function the way they are supposed to by using the science of what's really productive to build a more effective, less hair-pulling path. His programs are stocked with high-value takeaways and leave the generalities to others.
Your team gets evidence-based solutions for issues draining productivity and people. Employee training and keynote programs range from work-life balance, to stress management, resilience, and burnout, productivity and time management, employee engagement, and navigating the world outside the office for the most gratified life with the skills of satisfaction.
Your group gets proven tools to:

Manage stress and prevent burnout


Control email and information overload

Set boundaries


Reduce interruptions and distractions


Manage time frenzy and multitasking


Increase attention and Motivation 2.0


Boost the engine of resilience: optimism

Build engagement and effort

Refuel vitality and wellness

Activate life skills

The Heart of Employee Engagement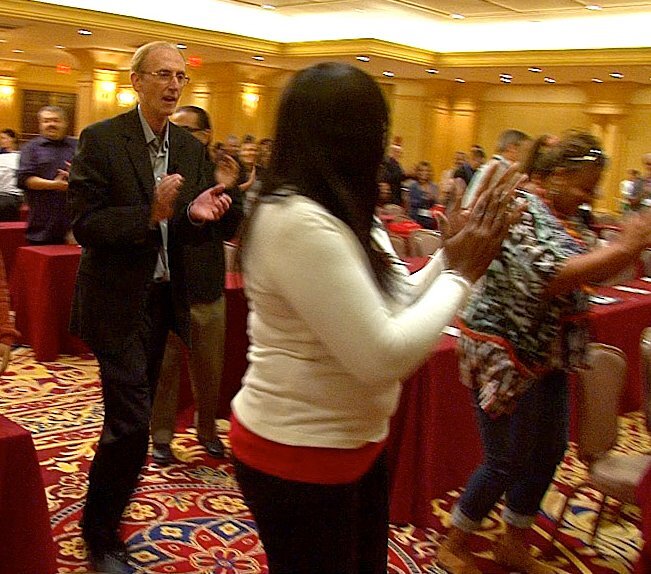 Employee engagement can't be commanded. Since it is defined as "discretionary" effort, willingly given by the employee, engagement can only be enabled.
Joe Robinson helps your team feel more valued, and as a result, more apt to deliver extra effort, by controlling the hidden culprit behind most of the challenges in the workday—reflex behavior, the retaliatory mode of acting before we think that drives stress, overwhelm, and work-life strain.
He arms your audience with the most effective practices—from email and interruption management, to stress management, and resilience skills. He also provides critical recharging strategies to keep brains and bodies fueled.
The focus is on optimizing the chief productivity tool, attention, and providing a road map to the heart of engagment: self-management, achievement, competence, and physical and mental vitality.
Because his presentations are rooted in the science, they get great buy-in. Audiences come away inspired and equipped with new skills to manage work, life, and their own minds.
Programs to Sustain the New Skills
Beyond our workshops and training programs, we also offer ongoing support through work-life balance and stress management sustainment programs, including eight-week and annual programs to help your team hone their new skills and overcome challenges.
We can provide ongoing monthly webinars, surveys, and outreach to keep your team on track. Our Buddy Assist program offers incisive advice and support throughout the follow-up period
SERVICES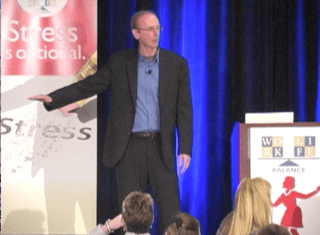 Trainings, Courses — Work-Life Balance, Productivity, Employee Engagement, Stress Management

Keynotes — Company Conferences, Meetings, Off-Sites

Keynotes — Associations, Trade Organizations
TESTIMONIALS
"Joe Robinson is a true inspiration."
—Brian Grazer
—Producer ("A Beautiful Mind," "Da Vinci Code")
—Co-Chair, Imagine Entertainment
"I'm getting such positive feedback from your talk, and from people who were skeptics. They loved your presentation. One of our top performers called me to say, 'I felt like he knew me and was just speaking to me about my life.' Wow! You were fantastic."
—Shari Morwood
—Vice-President, IBM
"We searched long and hard to find the right trainer for the challenges we face. We didn't want airy-fairy or generalities, but something real and practical to help us with the uncertainties and challenges ahead. Joe Robinson was the best choice for our stress management training. He gave us the tools and reminders we needed to manage stress and navigate the journey ahead."
—Linda Sellan
—Marketing & Sales, Nestle Global
"Joe presented to our top sales group as well as our executive team on a recent awards trip. The presentation was on work-life balance. It was fun and interactive. It provided information and takeaways that the group put right to work. We had great feedback from the team and they thoroughly enjoyed his presentation, "Work Smarter, Live Better"!! Do yourself a favor and check Joe out!!! It is well worth it!!"
—Steve Newel
—Servicing Manager, Hallmark Home Mortgage
"I met Joe through a highly effective personal coaching session. I have also read his two books, which I found very motivating and adaptable to my own situation. As a result, I invited him to present a session to our top 50 managers and executives during our company's national meeting. Given the challenges we were facing in the business, his focus and training were ideal--and perfectly timed for our needs and our workforce. The feedback from the managers was universally positive!"
—Craig Willardson
—President and CEO, Moark LLC, $700 million division of Land O' Lakes
"Joe's productivity and work-life balance training for our leadership team was fun, interactive and relevant. Joe shared many strategies for managing work-life balance that will not only reduce stress on and off the job but will help increase satisfaction in both arenas."
—Martha Vanderheyden
—Internal Coach, Indiana University Health LaPorte Hospital
"I received many positive comments from staff who really appreciated your words of wisdom and all the scientific information that has helped us better understand how the brain works, how our emotions affect our work and decisions, and how to live a more balanced life. It was just what we needed this year to start off on the right foot focusing on how to manage our personal and professional lives with greater satisfaction."
—Amira Al-Sarraf
—Principal, New Horizon School
"Our staff really enjoyed Joe's presentation—lots of positive feedback.You have a great message and tips that can benefit all of us. I thought multitasking was a good thing. Not anymore!"
—Joseph Slade, Assistant Commissioner
—New York City Department of Health and Mental Hygiene
"Was the workshop useful? 100% of employees said 'yes.' I am very pleased with the result. You offered tools and techniques that are easily implemented to make a significant difference in the workday."
—Rachael Seupersad
—City of Calgary
"Joe was an inspiration! His live sessions were fun and interactive. He gave us some valuable tools to carry forward."
—Charla Eversole
—Truman Medical Center
"Your message resonated with each person in the room. My team spends most of their waking hours focused so intently on work, the students, the teachers, and the parents, that many have lost touch with even the needs of their own families and most importantly, themselves. I am hopeful that if they take what you have so artfully presented to heart and put it into practice, that not only will they be more productive at work, but more importantly will get some of their personal lives back. Thank you for making a difference in my life and the lives of my team."
—Cheryl Meeker
—Senior Director, Manteca Unified School District
"Joe was dynamite at our conference, motivating and energizing our audience. He managed to get every single person in the room, more than 400 people, on their feet doing a Brazilian samba. The hallways were buzzing afterwards with people determined to bring more balance into their lives. It was one of the highlights of the conference."
—Shannon Stowell
—President, Adventure Travel Trade Assoc.
"Your material was very well-received by the managers. Thank you for providing this strategy that all overworked employees in large organizations should be aware of."
—Bob Nelson
—IT Manager, Internal Revenue Service
"Excellent presentation! To be able to able to capture the interest and attention of educational professionals is impressive. More importantly, I think you really made an impact and changed some minds yesterday."
—Avante Simmons
—College of the Desert
"Your talk was very refreshing and inspiring to all who attended. We got a great response. Especially memorable was your view on how technology has increased stress in the workplace and in our personal lives. Your techniques for dealing with this were practical and fun, especially the samba."
—Emily Mancini
—Marketing Director, Employee Network Inc.