WORK-LIFE BALANCE
Work-Life Balance Programs Fuel Engagement
OUR WORK-LIFE balance programs help your team manage time, stress, devices, distractions, health, and navigate the work-life divide. Whether the challenge is overwhelm, change, low work-life survey scores, or high stress, we support your talent with the latest research tools to help them work smarter and feel valued.
Employees who feel they have good work-life balance work 21% harder than those who don't, reports the Corporate Executive Board. That extra effort is the definition of employee engagement—and the dividend of great morale.

Increase Performance and Work-Life Survey Scores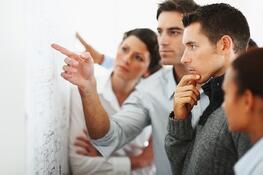 SO WHAT IS WORK-LIFE BALANCE, anyway? It's a strategy of adjustments to work and life that allows your team to feel their responsibilities are under control. We show your team how to work more productively, control demands, be more engaged and optimistic, and activate the most gratifying life.
OUR WORK-LIFE BALANCE workshops and keynotes guide your team through the latest science to equip them with better ways to work, from time management, to stress management, attention management, device management, interruption management, refueling strategies, wellness tips, and living a more gratified home life. With so many improvements, it's no wonder studies show that work-life balance programs increase, not just effort, but retention and revenues.
Strategies for Employees & Employers
WE USE THE LATEST RESEARCH tools to help teams and individuals work smarter. We provide proven strategies to solve challenges in an unbounded world. Visit our Work-Life Balance Research page to learn more or check out Joe Robinson's article, "The Scientific Connection Between Work-Life Balance, Productivity, and Engagement."
We also provide you with a system to measure progress and process improvements. Seeing tangible gains is a big leverage point for engagement.
The focus is on adjusting work style and managing reactions for better work, health, and life outcomes. Our work-life balance training provides strategies to:
| | |
| --- | --- |
| | Manage demands, pressure, and pace |
| | Build smarter performance |
| | Control email and information overload |
| | Manage interruptions and attention |
| | Improve time management |
| | Develop prioritization and time estimation skills |
| | Refuel brains and bodies |
| | Navigate the work-life divide |
| | Improve health and wellness |
| | Activate the most fulfilling life |

Activities That Are Fun and Interactive
THE BEST WAY to learn anything is by doing, so our programs are very interactive. The usual reaction is like the one we got from a manager with the Florida Dept. of Children and Families, "Was that really three hours? We were doing so many things, the time flew by." We offer programs of varying lengths, from keynotes to all-day sessions.
OUR PROGRAMS provide a mix of PowerPoint, group activities, table discussions, exercise handouts, and games, such as our surprise samba dance lesson. Our group multitasking exercise, from the University of Michigan's David Meyer, one of the nation's top attention experts, illustrates to everyone in 10 seconds how multitasking high-cognitive tasks can't be done. We get a solution that cuts stress and increases focus.
The Importance of Work-Life Balance for Organizations
WHEN DEMANDS AREN'T MANAGED, they manage your team and organization. They steal attention, drive crisis mentality, increase absenteeism and retention problems, health costs go up and job satisfaction goes down. Our programs give your employees the tools to work smarter, get more done with less effort, and increase effectiveness.
WHEN PEOPLE have tools that help them manage overwhelm, stress, and information overload, among other pressures, and feel that their responsibilities are being handled on both sides of the work-life hyphen, there are a host of payoffs for the bottom-line. As our article on the Top 5 Arguments for Work-Life Balance and the infographic below detail, the benefits come in increased productivity, profits, retention, stress reduction, and engagement.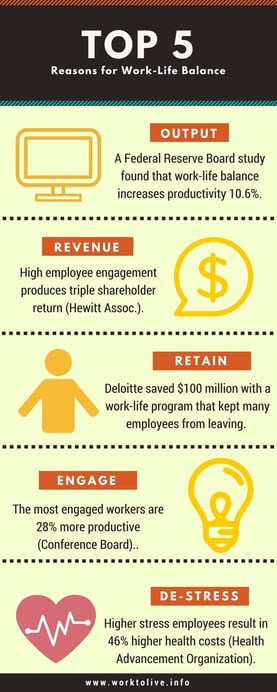 We Help Your Team Feel Valued
WE OFTEN get called when low work-life balance scores on employee surveys show that change is needed. Our work-life training programs take the pressure off with a host of adjustments, stress reduction tools, and overwhelm and overload solutions that create smarter work practices.
YOUR TEAM feels more in control of their work environment and their minds, which lowers strain from demands and increases positive attitude. This creates a sense of competence and self-responsibility, core psychological needs that make people feel valued by the organization. Feeling valued is the key domain of employee engagement. It leads to better teamwork, rapport, and extra effort.
Unleash the Engine of Engagement
THE MAIN DIMENSION of engagement is energy. The brain fatigues well before the body. Our chief productivity tool needs recovery strategies to operate at full capacity. We learn about the self-regulation system key to vitality, focus, and discipline and how our impulse control mechanisms are being undermined by the bottom-up attention of unbounded devices.
OUR TRAINING PROGRAMS help your team refuel attention with practices the science shows increase focus and productivity during the workday and, after work, that reduce fatigue and bring more positive affect to the office the next day. We also help your team activate the fullest life outside work, helping them unlock experiences that fuel optimism and satisfaction.
Learn More and Get a FREE Work-Life Balance Survey
CLICK THE PRICE or Events button in this column to get more details and highlights of our work-life balance programs and learn how a training or workshop can supercharge morale and engagement. If you're in the research phase, click the button below to give your team a free work-life survey.