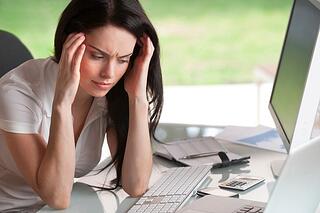 Most of the research on job stress has looked at men, but a new study of women finds the stress process very democratic in its toll on the old ticker and its supporting systems. The study, from Brigham and Women's Hospital in Boston, found that women who report high job demands and stress levels are 67% more likely to have a heart attack and 38% more likely to have a heart problem—stroke, high blood pressure, coronary artery disease—than women with low stress.
It's another sign that work stress is not a trifling case of nerves, but a health hazard, one that requires stress management skills few of us are taught. The belief is that we can live with stress, that it's just part of the professional territory—and that we can't discuss it or try to resolve it or we'll be a wimp.
We do live with a lot of stress. Life is chock full of it, but not all of it is a threat. When demands are low, or high but you have some measure of control over them, events can be perceived as challenging or exciting. But when demands are high and you don't have control over them, it's another story—which is why more than two dozen studies show the connection between work stress and heart problems. That's the kind of stress that is risky to live with.
Chronic high strain triggers the stress response. It creates a sense of not being able to cope, which is misinterpreted by the ancient hub of our emotions, the amygdala, to be a life-and-death threat. Off goes the stress response and a flood of hormones that suppress the immune system, increase blood pressure, and can lead to cardiovascular problems and a host of medical issues, from insomnia to irritable bowel disease.
The study followed 22,000 women in the healthcare field for 10 years and found the high-strain group (including managers, who were high risk) with an elevated risk for heart problems. Lifestyle issues—smoking, weight, etc.—accounted for only one-quarter of the increased risk. The research supports data found in a Finnish study of 48,000 women, which found that job stress can double the risk of cardiovascular disease.
If you or your organization fall into the chronic, elevated strain category, stress management strategies are crucial to prevent the toll on health, decision-making, productivity, and pocketbooks. Since the stress beast runs on knee-jerk reactions and "explanatory style"—what we tell ourselves about stressful events—changing the response to stress can change everything and lead to vastly improved work-life balance.
The stress process is so ingrained it takes a concerted effort to retrain the brain to react differently than autopilot fight-or-flight. Our stress management programs reframe stress so it can be cut off before it spins out of control into chronic activation that takes bodies and businesses down with it.
A two-pronged approach is needed, tools that we can use to put out the fires as stress pops up—both mental and physical techniques—and then stress management strategies outside the job to counter amygdala activation and release the tension. It's part of the body's natural work-life balance system, the parasympathetic system of recovery restoring the body to rest and maintenance.
Study co-author Michelle Albert singled out the importance of having ways to unwind after work. Regular recreational and exercise outlets are essential to relieve work stress, or it continues to fuel anxiety, muscle tension, and cortisol release. That requires planning, a different skill-set than the work mindset, and the right motivational strategy—all of which are part of our training program.
One of the hallmarks of stress is obsessive thinking about the perceived crisis of the moment. Pastimes and aerobic exercise buffer stress as well as increase positive mood and confidence, which helps switch off the false emergency signals in the brain and create the vitality to perform better on the job.
It's all about coping with demands. If they push us beyond our ability to cope and nothing is done to increase coping resources, non-android bodies and performance pay the price. The good news is that coping strategies can become the best parts of the day, from relaxation techniques to recreation after work—if we can override the "I'm too busy" mental block fueled by stress to take care of ourselves, that is.