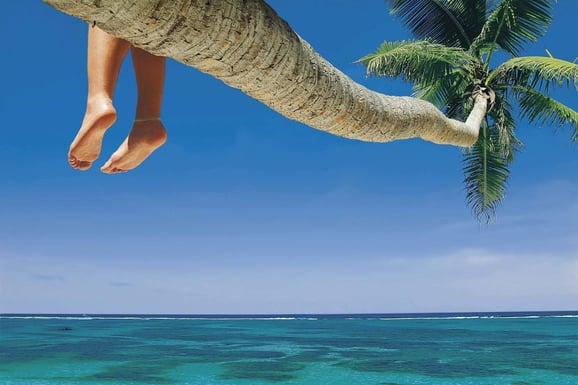 EUROPEANS SAY they know only two kinds of Americans, college kids and senior citizens. They are the only Yanks they see traveling in Europe. The vast demographic between those two groups is a mystery. Of course, we know why. From mid-20s until retirement, heads are down, immersed in the scrum of career, family, and mortgages.
Yet those are not total life-breakers, if not combined with another bigger issue: identities wrapped up in one side of the work-life hyphen. We define the self through labor in the U.S., unlike in many other lands, so self-worth tends to get tied up in what we do and identity with what's on the business card. Yet what we do for a living is only a part of who we are, known as a persona, a social handle for others.
The real you is much more than the work I.D.—it's a mix of your enthusiasms, interests, friends, family, humor, creativity, a whole bunch of things that come from the life side, your actual experience of living, in other words.
QUALITY OUTPUT REQUIRES QUALITY INPUT
Now there's definitely nothing wrong with the productive side. I lead productivity trainings, so it's something I'm partial to. The performance/accomplishment component is essential for our core need of competence and is one of the keys to well-being.
It's just that we get so one-tracked that we can wind up missing out on the living we are making for ourselves. When all worth comes from output, there's no value in input, which is also bad for work—no recharging, stress relief, new ideas, plenty of negative affect. We wind up defaulting to the only worth we know, performance, skip an engaging life, have trouble getting a life on the agenda, and forget who we really are.
A former casting director I know in Hollywood opened up a side business as an identity detective. He helps professionals, such as doctors and lawyers in particular, retrace who they are/were before the career. They dig back through high school yearbook comments, old love letters, and sports activities to try uncover the essence of who they were before they became known as their job.
We need some evidence too of our own lives. I suggest a business card for life. In my work-life balance trainings I have folks create their own life cards, on which they describe themselves by an interest, hobby, something they used to do but shelved, something they always wanted to do, like learn a musical instrument.
They could be a "travel enthusiast," a "dog whisperer," a "gourmet chef." When we have an identity outside the job, we are more apt to take part in it. Many, though, have trouble coming up with anything, because they have been told there's no value outside the office.
When we don't participate in our life, we quickly lose touch with the skills and goals of play, curiosity, and exploration that make a fulfilling life happen.
Life balance takes a different skill-set than the work mind. The goals are intrinsic, meaning we act for no payoff or result. We try something fun for the sake of it. The output goal is so rote, though, that we may skip a softball game or a vacation. What am I going to get out of it?
The need for an instant payoff makes it hard for adults to learn, try something new, or stick with a leisure activity long enough to learn it. The double-whammy of not acting for an external reward and worrying that you might make a fool out of yourself by doing something you haven't tried before keeps many adults sidelined from fun and stuck in spectating after work hours.
REVALUING TIME OFF-THE-CLOCK
Even the words "play" and "fun" seem unworthy of adults, slackerish. That's because we never learn the value of stepping back from performance mode. Idle time is the devil's time. Or is it?
The University of Maryland's Seppo Iso Ahola has found in his research that recreational activities reduce stress. They operate as a stress buffer, taking our mind off problems and building up our resilience. No matter what's happening at work, you can climb on a bike or jump in a dance class, and the positive emotions soon crowd out the negative that drive tense work thoughts. Iso Ahola says that the more engaged leisure life you have, the higher your life satisfaction. That doesn't sound too devilish.
It's time to revalue time off-the-clock from notions that are antithetical to the whole point of the work and counterproductive to quality output, since engaged leisure activities provide the recharge our chief productivity tool, attention, needs to get work done with less effort and stress. These fun outlets vitalize mind and body, allowing us to bring a positive frame to the office.
Researcher Laurence Chalip at the University of Texas has found that engaged leisure activities increase positive mood through more self-control and social support. Overwhelm and stress on the job make us feel out of control. At ease in activities we like to do, especially those that can advance our mastery skills, we bring control back to our day. We also tend to have fun with others, so we get an internal payoff for one of our core needs, connection with other people.
HOW TO ADD EIGHT HOURS OF JOY A WEEK
And it gets better. The University of Montreal's Robert Vallerand has discovered that having a passion, an activity that you do on a regular basis that you love, can add eight hours of joy to your week. Vallerand's research shows that we internalize mastery activities, and they become a part of our identity. "I'm a runner." "I'm a musician."
These self-images serve as bulwarks of our real identity and are not subject to other people's approval, so they provide ongoing self-esteem and root us in positive events that inform our memories, our ongoing status report, that we like our life. How important are these off-hours attributes of identity? Play scholar John Neulinger called passionate play pursuits none other than the "central life interest."
Alan Waterman of the College of New Jersey says when you're engaged in activities of personal expressiveness, ones that are self-chosen and that advance your life goals, you are operating from the "true self."
So far from being a waste of productive time, recreational activities, play, fun, and hobbies are the road to who we really are. Getting a life I.D. as well as a work I.D., then, is essential for the complete picture of self-image and unlocking the experiences that tell us we are doing what we are supposed to be doing here—determining the content of our lives through participation in it.
No doubt, this is why a study out of Princeton led by Alan Krueger found that of all the things on the planet, what makes humans the happiest is participating in engaging leisure activities.
Engagement with life is a proactive affair. You are the entrepreneur of your life. No one can make it happen except you. You have to put leisure activities on the calendar for after work, on the weekend, and make sure to take every day of your vacation. Take your life calendar as seriously as work appointments, because these are events of the highest order, your appointment with life.
If you would like out more about the skills and adjustments of true work-life balance, please click the button below for more details.