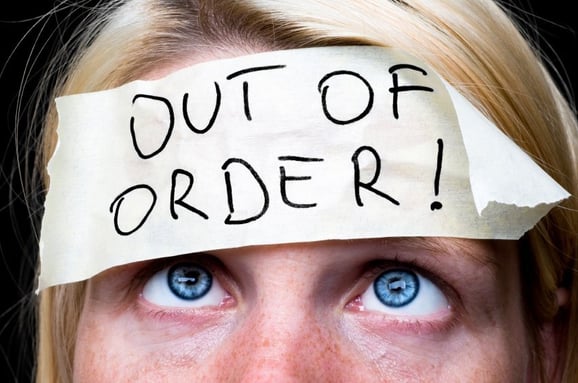 We all hate repeats, especially of dramas we are starring in. Those come most frequently courtesy of one of the main protagonists of stress, a rehash cycle known as rumination. If we weren't so prone to repeated obsessing over things that push our buttons, there would be a lot less stress and burnout in the world.
It turns out that one of the biggest culprits in the stress battle isn't what happens to us. It's what we think happened to us. That's where rumination, or circular worrying, comes in, with exaggerated thoughts informed, not by facts, but by irrational emotions.
It's the obsessive replay over and over again of events that have overloaded our ability to cope with them that fan stress, entrench it, and convince us that there is a clear and present danger to life and limb, even though there isn't.
GETTING OUT OF OUR OWN WAY
Turning off the rumination reflex is one of the keys to stress management and preventing your brain from being convinced on a regular basis to believe it's the end, when it's simply a neuronic malfunction. All we have to do is get out of our own way, a course we chart in our stress management programs for individuals and organizations.
Normally, thinking is a good thing. We don't jump off the 100-foot cliff or floor the gas pedal in a parking lot. But that's when the 21st century brain is in use. We can use rational faculties to weigh pro and con. The stress response, though, puts an ancient stowaway in charge of your mind in the form of the emotional limbic system.
Ruminating with a mind that has been sent back to the future to 100,000 B.C. doesn't work so well. That is because the survival mechanism that is setting off the alarm bell, the amygdala, doesn't have a clue about non-life-threatening social threats today. It only knows one kind of threat—imminent death.
As a result, the first thought we have when a stressful event occurs is a false belief, an exaggeration that blows events out of proportion with reality. Remember, a part of your brain thinks you are going to be an ex-sentient being at any second. It routes all thinking through what it believes is total calamity. You can't be thinking about your email, your next report, or going to the movies when you only have a few moments left on earth, at least in the panicky view of the amygdala.
This sets off a wave of catastrophic thinking, or "awfulizing," which takes the form of constant ruminating about the situation and fomenting worst-case scenarios. The brain is constricted to the perceived crisis of the moment and stuck on a terminal replay loop. The objective is to get you to pay attention so you can save yourself from the perceived danger.
ONLY EXPERIENCE IS REAL
Stress loves this total monopoly on thinking. The longer the catastrophic thoughts go unchallenged, the more the false belief is amplified and entrenched. Time and rumination turn mere thoughts that aren't real into real physical problems, since the stress response suppresses the immune system, increases the bad cholesterol and decreases the good kind, and shuts down digestion—and worse.
Depending on what you tell yourself about why you think this event happened to you, you can either turn the danger signal off, because there's nothing there but a false belief, or it can lead to even bigger problems, cardiovascular issues and depression.
It's the nature of humans to think that what's in their brains must be true, because, well, it's in our heads. But catastrophic thoughts are not real. Only experience is real. The thoughts you have after the stress response is triggered are the byproduct of a hyper-vigilant survival reflex, aided and abetted by what we tell ourselves about the event.
What do you tell yourself after a setback? "I'll do better next time," or "I'm never going to figure it out?" "It's a one-off," or "I'm going to lose my job." "I didn't prepare enough," or "There's something wrong with me?"
The all-or-nothing, black-or-white thoughts set off by the ancient brain can either be encouraged by pessimistic thinking or discouraged by an optimistic "explanatory style," as its known. Even if you have a pessimistic explanatory style, you can overcome it with a bias for action, which is the antidote to rumination.
CHANGE THE STORY
It's easy to fall for the pessimistic track at first, since the story and emotions are coming from the alarmist ancient brain. Brooding, analyzing, and replaying makes us take the bait and reinforce the false story. If you already are prone to pessimistic thinking, setbacks can serve as evidence for what you already believed, that nothing is going to work out. University of Pennsylvania researcher and author Martin Seligman has written that, "The recipe for severe depression is preexisting pessimism meeting failure."
So what we tell ourselves about what happens to us is essential to counter the rumination that can lead to chronic stress, burnout, and in some cases depression. The sooner we can cut off the bogus story and supply another one—"I'll do better next time," "Sometimes the bear eats you"—we prevent the false belief from sticking and amplifying itself into an ER visit. Find a phrase that represents a different story like "stay objective," to keep your emotions out of it, and repeat it like a mantra after a stressful event goes off.
There are two main ways to prevent rumination and its flights of stress-concocting fantasy—distraction and contesting bogus beliefs. The time to strike is as soon as the wave of emotion begins. Whether it's rage, embarrassment, or fear that is flaring, distract the caveman brain with your alternate story—"I don't react," "It's a lot of work, but I'll get it done," "I move on." Repeat it for several minutes.
DISPUTING THE BOGUS STORY
The one thing that's seldom done when stress blows up is to contest it. Disputing stress is one of the most effective ways to shut it down. It's a thinking process, but unlike the wallowing that takes place with rumination, there's a point and action to the analysis. In rumination, the thoughts circle in a loop of helplessness.
Disputing the story reactivates the rational mind. The analytical act of finding reasons why the catastrophic story is false requires the 21st century mind to spring back to life. Bring out the facts of the case and put them down on paper or a screen, pro and con. Try to step outside yourself and be objective. Lay out the case like a lawyer would by focusing on the facts.
No, it's not the end. You CAN cope. The facts are clear. But it is the last stop for wasting hours, weeks, and months of life on the false beliefs of rumination.
If you would like to learn more about our employee stress management programs, click the button below for details on the program and pricing.