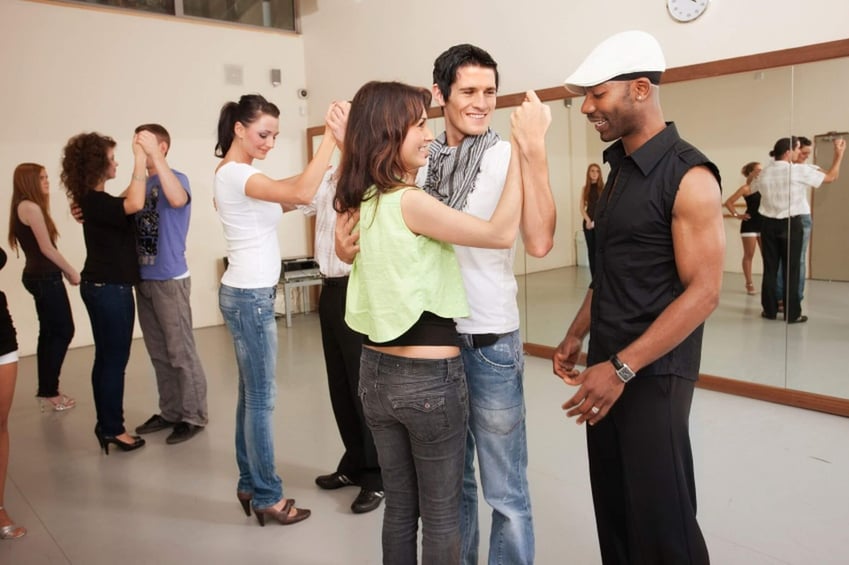 Despite all the classes we take, degrees we get, documentaries we watch, many of us never get the word about a remedy as key to health and happiness as watching cholesterol or eating the right food. It's the invisible cure for a host of our problems, from stress to obesity to loneliness: leisure skills.
What's that? Microwave popcorn popping? Isometric finger exercises for the remote? Actually, what we do with our time off-the-clock has a lot to do with our satisfaction with life and work, too, since life is the engine of our energy, creativity, and productivity. Knowing how to participate in engaged recreational activities is also one of the best stress management tools and guarantees that we have work-life balance in our lives.
When we don't have leisure skills, what do we do? Flip on the TV. The average state of someone watching TV, though, is a mild depression, reports Mihaly Csikzentmihalyi, author of Finding Flow and the pioneering authority on optimal experience. Considering what's on the tube -- Dog the Bounty Hunter, Worst Tattoos -- that's no bulletin.
GET ON UP
A sedentary lifestyle is a major risk factor for heart disease and other serious health problems. A recent study in Medicine and Science in Sports and Exercise reported that men who spend 23 or more hours a week sitting, watching TV or glued to car seats had a 64% greater chance of fatal heart disease than those who only logged 11 hours or less per week in seated mode.
That could well be a bigger problem, since some 78 percent of Americans over age 30 don't get any exercise, according to Census Bureau statistics and Seppo Iso-Ahola of the University of Maryland.
The root of the problem? Missing leisure skills, something we don't know we need. The assumption is that leisure is a vegetative condition, and therefore there are no requirements aside from batteries for the remote. But it's actually the exact opposite. As Aristotle saw it, the non-work arena is a realm of engagement, of self-fulfillment and learning.
In one of the not-so-great ironies of the modern world, we are trained to make a living, but not how to do the living we're making. We wind up without the skills to do what is essential for physical and mental health -- participate in our lives through engaged experiences.
WORLD'S HAPPIEST PLACE
The link between active leisure and health is plenty clear to researchers. Leisure experiences have been found to reduce stress by buffering setbacks and building coping mechanisms. They also build self-esteem and confidence and improve mood through increased self-control and social support.
Aerobic exercise and vacations have both been shown to reduce depression. The more active leisure life you have, the higher your life satisfaction, says Iso Ahola.
Passions and the active leisure skills that create them work wonders for your health and outlook because they satisfy core psychological needs for autonomy, competence and connection with others. Yet this power of this health resource doesn't filter down to us because we are using the wrong skill-set to access it.
THE LIFE SKILL-SET
You can't play hopscotch with a flowchart. The work skill-set is the opposite of what's needed to activate your life. On the work side, the objective is results, output. On the life side, it's about the experience itself, not where it's going. On the work side, it's about control and micromanaging; on the life side, risk-taking. On the work side, it's about the familiar; on the life side novelty and challenge.
It takes another skill-set to create a fulfilling life outside the professional world. Here are some of the key leisure skills that get your life going:
1. Intrinsic motivation. Pursuing and enjoying experiences off the clock takes a different motivation: intrinsic motivation. You do it for the inherent interest, fun, learning or challenge. Research shows we enjoy what we're doing more when the goal is intrinsic. Expect no payoff, and you get a big one, internal gratification.
2. Initiating. We have to break out of spectator mode and self-determine our lives to feel gratified. We need to research and plan activities, seek out and try new things, invite others to get out and participate -- and if they don't reciprocate, go alone.
3. Risk-taking. The real risk is not risking. Security is a red flag for the brain, which is built to seek out novelty and challenge. Make the risk intrinsic (the result doesn't matter), and you're able to venture much more because, instead of having anything on the line, you're just exploring.
4. Pursuit of competence. Since competence is one of your core needs, it's a handy thing to build and sublime to feel. The idea here is that you want to get better at something -- not to show off, not for anyone else but for your own gratification and mastery need. Pursuing competence leads you to build your skills at an activity to the point where it can become a passion. It's a fabulous happiness-building skill. Having a passion can add eight hours of joy to your week.
5. Attention-directing and absorption. The key to optimal experiences is being 100 percent engaged in what you're doing now. That means losing the electronic devices and distractions and putting all your concentration on the activity at hand. The more absorbed you are, the more your thoughts and deeds are the same, and the happier you are.
6. Going for the experience. Observation and hanging back don't satisfy the engagement mandate of your brain neurons. To activate a fulfilling life, we have to participate in the 40 percent of our potential happiness we can actually do something about -- intentional activities. That's the realm of experience. Experiences make us happier than material things because they can't be compared with anyone else's experience. They don't lose value through social comparison. They are personal events that engage our self-determination needs.
These skills take us inside the participant dynamic essential to a healthy and extraordinary life. They show us that the good life comes from a place quite a bit different than we thought, and only we can make it happen, nobody else. Life's out there, if you are.