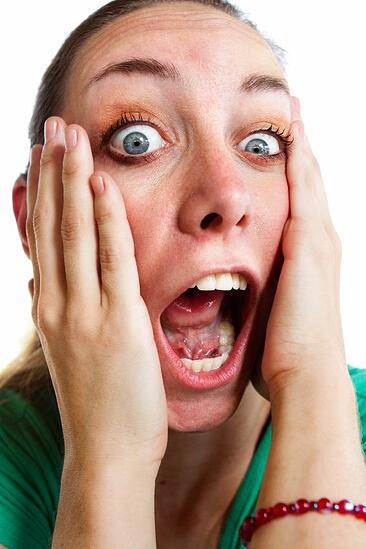 We burn up a lot of time and nerves worrying about what's going to happen next. The fears almost always turn out to be just that, wild projections. You're going to get fired because the boss is in a bad mood. You'll never make the deadline. You'll never have another good idea.
You would think we would know the routine by now, but, no. Our brains love to stew, since they are tuned to a survival instinct that sees things through the prism of imminent disaster whenever possible.
That's particularly true when stress is at the helm. The stress response turns on the ultimate alarmist, the amygdala, the brain's primitive emotional hub and fear central, which floods the mind with one overriding theme: catastrophe.
A brain built to keep us alive in 100,000 B. C. hasn't made the transition to the modern world. We may be carrying 21st century technological devices and wearing duds from Macy's, but inside our heads, there's a caveman/woman waiting to freak out at the slightest threat.
Keeping down the panic reflex is the challenge of our lives, and, increasingly our work too. Job stress can do what sabre-toothed tigers never could, keep us in a state of chronic stress, which can have a major impact on health, performance, and bottom lines. More than two dozen studies show the connection between job stress and heart disease.
When work stress activates the amygdala, the trigger sets off a pattern many of us are too familiar with, known as awfulizing. Since the amygdala believes your life to be in imminent danger, it blows things well out of proportion. The unreturned phone call, the meeting you weren't invited to, the disapproving tone of someone's voice, signals impending doom.
Awfulizing is the byproduct of irrational self-talk set off by an activated amygdala. It turns everything into a worse-case scenario, which fuels the stress response and more calamitous thoughts. A few minutes of overreacting can trigger fight-or-flight. The awfulizing default exaggerates mistakes, slights, flaws, and behaviors into apocalyptic scenarios.
It's pure fantasy, and unless we challenge them, they become the reality, not a pleasant one for any department or company where awfulizers are running wild. It leads to a perpetual state of crisis mentality in any organization.
One of the triggers of awfulizing is the tendency to take things personally. The reality is that things happen in the world, and we can choose to see them in a neutral way or take them personally. That's not an easy choice, I admit, given the fact we have this thing called an ego, which always wants to have its way and believes it is at the center of the universe. Once the ego is into it, off goes more raw emotion that feeds more irrational thoughts. Irrational self-beliefs also enable catastrophic thoughts, as events seem to validate pet fears—I must never make a mistake; my worth depends on how much I achieve or produce, etc.
We have better things to do than run a fantasy factory all day. The best stress management programs and work-life balance trainings (see ours here) build skills to control the self-talk and the exaggerations that come with it. People learn how to recognize the patterns and shift to realistic self-talk that keeps the horrors confined to the Sci-Fi channel.
The next time your brain starts spinning out catastrophic scenarios, catch the awfulizing and remember the caveman inside your head, a character long past the expiration date.