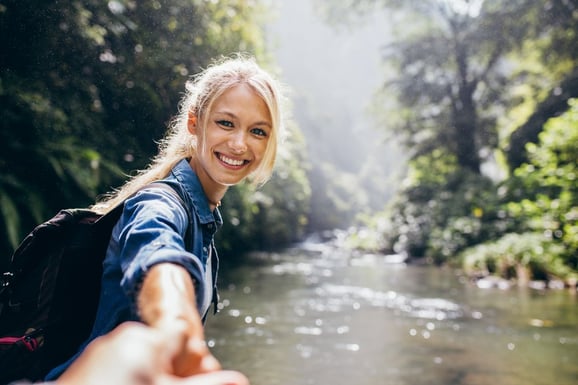 Despite the day's grim headlines, we are all in luck. We happen to be alive at a time when the science has figured out what makes us happy. All we have to do is follow directions. For centuries, humans had to rely on the opinions of elixir salesmen, court jesters, peers, and herd instinct to track down hubs of happiness. That didn't work out too well.
It's still not working out, since most are unaware of the research and rush headlong for what doesn't make us happy—money, success, status, beauty. These traditional metrics of happiness provide a quick bump in good vibes, but it is ephemeral, gone swiftly without a trace, and then we have to get more of it. It's called a hedonic treadmill, on which there is always another external want beyond the one we just achieved.
THE FLEETING PHANTOM OF HAPPINESS
The thrill of a job promotion is gone in two weeks, studies show. Lottery winners go back to however they felt before the winnings six months later. If you want to go for a long stretch of happiness, the thrill of a new home lasts a full year. Unfortunately, the bills for it last a lot longer.
There are several reasons why our go-to happiness goals are a flop. One, they are dependent on external approval, what others think. That can't make you happy. It doesn't go to your internal bottom line, what validates you inside. You don't buy it, because it's someone else's opinion. Only you can make yourself happy through intrinsic goals and experiences, as researchers such as Tim Kasser and Edward Deci have detailed. Happiness is about living richly, not material riches.
Two, our brains are programmed to habituate to the new situation, get used to it, and then it's no big deal, and boredom sets in. And three, our idea of happiness is at odds with the nature of this highly sought-after emotion. The elation state we associate with happiness is a brief affair. We feel giddy, high. And then we soon come back down to reality. Reality and us suffer in the comparison to the peak state of intense happiness. We can't hang on to its slippery ether.
PLEASURES VS. GRATIFICATION
The University of Pennsylvania's Martin Seligman draws a distinction in happiness between pleasures and gratifications, a distinction that concerns duration and depth. Pleasures, like a glass of wine or a piece of German chocolate bundt cake, make the senses tingle, a surface happiness, but don't go to our core, so they fade quickly. Most of us equate pleasures with being happy—and have to keep going for them because they don't fill us up.
There's a brilliant description of happiness in the great bossa nova classic, "A Felicidade" ("Happiness") by Tom Jobim and the poet/lyricist Vinicius de Moraes: "Happiness is like a drop of dew on a petal of a flower that shines quietly, then swings so slightly, and falls like a tear of love."
De Moraes nailed the fleeting ephemerality of happiness, or at least the form most associated with the happy feeling—something intensely pleasurable. Pleasures are fun, but they are a brief affair.
Our brain neurons are designed to cut us off from excess jubilation and bring us back to our survival default—what's wrong, how am I going to make it, what's going to happen, and general worrywart action. This is how the species has made it this far, erring on the side of the negative.
THE 3-TO-1 RULE
But we don't face a life-or-death struggle every day as we did 150,000 years ago. We don't have to stay in the negative bunker all day, and studies show that we are much better off if we go the positive route. Positive emotions and an optimistic framing of events (temporary, not permanent; not taking it personally) are the building blocks of the longer form of happiness that comes from gratifications, which is about doing things that involve seeking, learning, and feeling the satisfaction of growth, gratitude, or helping others.
We need three positive events to every one negative to stay on the positive side, because the negative is so powerful and drags us down, reports Barbara Fredrickson of the University of North Carolina and author of Positivity. Her work has shown that positive emotions broaden and build us, buffering setbacks, and driving initiative, new friendships, and opportunities. They are the bulwark of long-form happiness, the gratifications, and key to bouncing back and resilience.
In other words, happiness isn't something that happens to us. We have to put ourselves in the vicinity of it. To do that, we need the right goal, an intrinsic one, and act unconditionally.
Intrinsic goals are things we do for the inherent interest, fun, challenge, learning, excellence, service, craft, or community. We act not for instrumental gain or reward. When you dance, the purpose isn't external, to shake your way to the other side of the dance floor. It's simply to be in the fun of the experience of body in sync with rhythms. When you act for no payoff, you get one internally, and as a result, it sticks with you, unlike external goals.
EXPERIENCES MAKE YOU HAPPIER
The glow lasts, because it's your personal event or experience, no one else's. The University of Colorado's Leaf van Boven and others have documented that experiences make us happier than material things because they can't be compared to anyone else's experience. Experiences are also interactive, so they fire off lots of different parts of the brain. The neurons that fire together wire together. That means we remember experiences for a long time.
Memory is key to happiness. It's your ongoing status report, at any given time adding up the recent happenings and reporting back good or bad. A study by Sonia Lyubomirsky from the University of California at Riverside and Kennon Sheldon of the University of Missouri detailed that you are as happy as the most recent positive and novel thing you can remember.
Studies show that 50% of our potential happiness is genetic, and another 10% is due to circumstance—the state of your health or the environment you are raised in. You can't do anything about either of those, sorry. That leaves you with 40% of potential happiness that you can actually control. It's a realm known as intentional activities, the proactive things we do to engage with our world.
Intentional activities such as pastimes and hobbies fall squarely into the gratification column. They create positive mood, self-esteem, social support—things that not only increase positive emotions but also make us feel we are writing our own script as participants on this planet. As the University of Rochester's Edward Deci and Richard Ryan have documented, that results in gratification of our three core needs—autonomy, competence, and connection with others. Ultimate gratification.
The brain responds by releasing dopamine, the chemical form of satisfaction. When your skills meet a challenge while doing something fun, you can satisfy both short and long-term forms of happiness through optimal experience, also known as flow. If you have a passion you partake in on a regular basis, you can add eight hours of joy to your week (Villerand, University of Montreal).
THE PARTICIPANT MANDATE
Anything that improves skill and makes us stretch beyond the routine gratifies the core need of competence. It's our mastery need, and we feel great when we are tapping it. We feel we are doing what we are supposed to be doing on this planet. And we are. Your brain wants novelty and challenge more than anything else for long-term fulfillment, reports brain scientist Gregory Berns in his book, Satisfaction: The Science of Finding True Fulfillment.
Lyubomirsky and Sheldon say there are two keys to sustainable happiness: initiating intentional activities and sustaining them. Both of these require us to engage with our world and follow our need to learn and grow. It's about being participants in the journey, since this is when we gratify core needs such as competence, autonomy, and connection with others.
Initiating and sustaining are hard. We have many distractions and obligations, and gratification isn't considered important enough to vie with it all. Yet all it takes to get the living in we are making for ourselves is to prioritize these behaviors and make them important, which they most definitely are.
The great psychologist Erik Erikson, who studied the stages of life and worked with many seniors, said that one of the questions we will have at the end of our days is: "Was it a good time?" Go for intrinsic participation and experiences now, and you can make sure you have the right answer to that question.
If you would like details on my work-life balance programs and how to get the most from work and life for your team or organization, please click the button below.