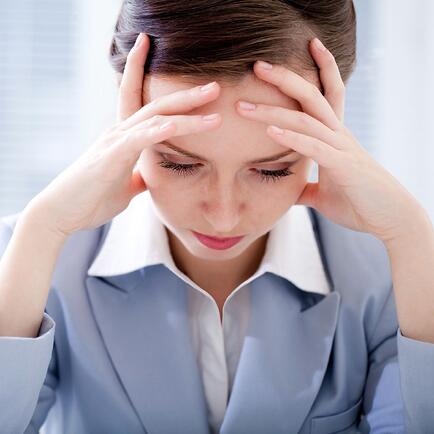 As if there aren't enough stressors in the workday, here's one more you may not have been aware of that is a very effective driver of pulse rates: guilt. Specifically, work guilt, a condition that drives perfectionism, employee friction, low job satisfaction, and bad work-life balance. It makes people do more than they can do well, put their health at risk, and undermine productivity.
Unlike engaged employees, who willingly bring extra effort to the job, with vigor, absorption, and dedication, people driven by guilt do the work unwillingly, because they "should," not because they want to. They bring resignation, resentment, and self-defeating heroics to the task and cause others to do the same, setting off conflicts with colleagues who feel they have to go beyond what's productive to keep up. These are not hallmarks of engagement, which is characterized by self-driven, self-propelled effort.
Perfectionists spend longer than they have to on a given task, reducing performance, and have a hard time delegating, because no one can do the job as well as them. Not trusting others results in slower turnarounds, more burnout, and resentment.
UNREAL GUILT
Work guilt falls into the category of what psychologists call "unreal" guilt. You haven't punched anyone in the face or slashed their tires, committing real harm. Like the imagined dreads of a blind date, unreal guilt is an anticipatory anxiety.
"Most of our guilt is a result not of fear but anxiety," say Lucy Freeman and Herbert Strean in Guilt: Letting Go. "No one menaces your life when you feel anxious. There is only ephemeral danger, one that does not exist in the real world but in your fantasy."
We wind up at the mercy of unreal guilt because we get it confused with the other brand of guilt, "real" guilt, which forms the basis of the conscience we need to be able to function in society, something selected out by nature to prevent us from making mistakes. Real guilt helps you to be trustworthy and not strangle parking ticket officers.
But unreal guilt is a pretender, passing itself off as bona fide as it inflicts your life with needless and time-consuming agonizing. The guilt feels like it's coming from your true inner compass, but it's actually a composite of the nags in your life commanding that you "should" or "should not" do a given thing and that, if you don't follow the badgering then you've committed an infraction.
PRODUCTIVITY IS THE LOSER
Bosses get it as bad as employees. One CEO of a major media firm told me that at the end of the day he's waiting for his staff to leave so he can leave, and they're waiting for him to leave, so they can leave. It's a standoff. And productivity is the loser.
Guilt can drive people to go beyond the usual cues of mental and physical fatigue, increasing stress, myopic decision-making, and heath problems, such as burnout, which is seven times more costly to treat than the average workplace malady.
These are a few of the reasons smart managers have told me they don't want their talent flaming out from guilt-driven overperformance or driving colleagues bonkers. The most effective approach with staff is to encourage quality and excellence for its own sake, for intrinsic goals, not for the external goal of perfection, which fuels insecurity, dissatisfaction, and low work-life balance survey scores.
THE THOUGHT-AS-DEED WHAMMY
To understand how unreal most guilt is, it helps to know the bizarre way some of these bouts of optional angst come to us. One of the quirks of the way the mind works is that it interprets thoughts or wishes as if they were deeds. As far as your brain is concerned, if you think it, it happened.
This comes from way back on the human tree before the species had rational thought. For the earliest humans, action immediately followed thought. Random thoughts—eat acorn, kill stranger—became instant deeds. Though evolution moved on, one corner of our minds didn't, leaving us with the thought-equals-action, guilt hangover. We feel as guilty at the wish to do what we shouldn't than if we actually did the deed.
Most of the guilt we lug around is not based on what we've done, but what we wish. We are being manipulated by a mind that thinks it's the year 150,000 BC. A more up-to-date and engaged employee actually wishes to do the work.
INHERENT INTEREST BEATS PERFECTIONISM
There are two ingredients in getting the guilt down and the quality of engagement up: intrinsic motivation and choice. A study by Harackiewicz and Eliot found that intrinsically motivated employees are continuously interested in the work that they are doing. People whose goals are the inherent interest of the work itself—or excellence, challenge, craft—are absorbed in what they're doing, like it more, and remember it better, the research shows.
Those who are driven by external approval are in it to please someone else, not to have 100% attention on what it is they're doing.
The guilt that drives burnout and non-awareness of healthy limits is fueled by decisions made by others. The voice in our head we think is ours telling us we have to keep at something well beyond the point of the task being finished is actually somebody else's. It's a byproduct of the "shoulds" that have come our way via parents, bosses, teachers, peers, coaches, and culture over the years.
THE POWER OF CHOICE
When we go along with this pass-along guilt without making a decision of our own, we agree to be manipulated by the guilt-inflictor. The way out of the cycle is to make the decision you want to make. You do it or not because you consciously choose to.
This shift in thinking puts you in control of your decisions. You opt out of the guilt-resentment cycle with choice.
If a friend invites you to a party, and you don't want to go but you show up, you're going to feel resentful being there because it's something you were commanded that you "should" do. However, if you make the decision, tell yourself out loud I'm going to that party to support my friend even though I would prefer not to, you're not going to feel resentful. You made the decision.
If you stay home from that party, the "shoulds" will make you guilty as charged. If you say, 'I'm staying home because I'm exhausted, went to a party of hers recently, or just prefer not to for this reason,' you won't feel the automatic guilt, and the stress that comes from it.
Choice destroys guilt. It says, "I choose," instead of "I lose" with the decisions of others. Making sure employees are working for the right reasons is not something a lot of management is concerned with. But they should be, because the difference between engaged and unengaged and/or burned-out staff is at least 28% more effort, according to a Gallup survey. Not getting that kind of effort is something to, well, feel guilty about.