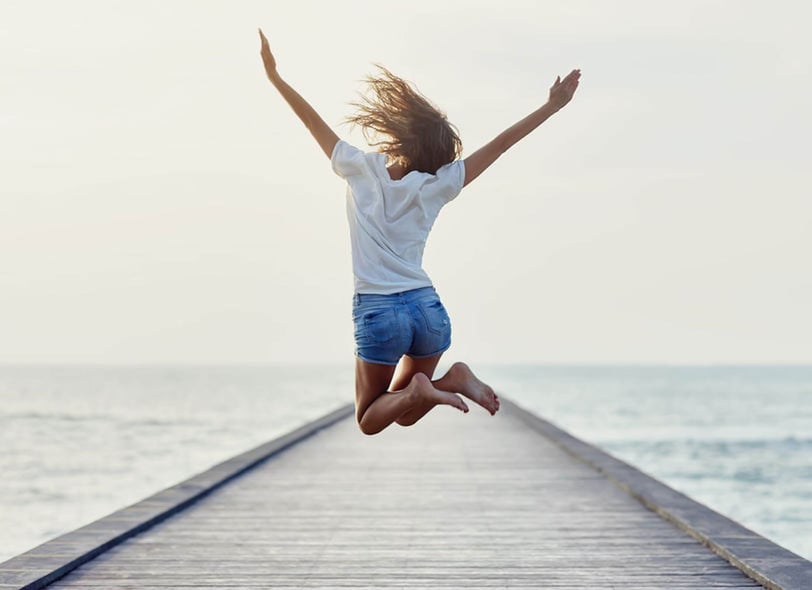 If you think you aren't creative, all you have to do is recall some of the wild, projected fears you have had in your life, fantasies that could contend with material from the Brothers Grimm or the Chucky films. We are all highly creative when it comes to dreaming up negative scenarios about things that are going to befall us that never pan out.
Given our talent for conjuring things, it's surprising, then, that we are abject failures in imagining how we can bounce back from the setbacks of life. When we are knocked flat or struggle with an intractable problem, intense emotions and perceived doom cloud brighter imaginings.
THE FALSE BELIEF OF PERMANENCE
Welcome to one of the hallmarks of the stress response and failure, pessimistic thinking. If we keep this mentality going long enough, it can lead to chronic stress, burnout, and something that has been shown to have a major impact on mental health and depression: giving up. It all comes from a false belief of the permanence of the dire situation, but it's an illusion.
Everything changes, particularly in the thoughts and minds of humans, including those who think nothing will change. It's the law of life on this planet. Yet when negative events strike, they set off the survival equipment of the stress response, which makes an ancient part of the brain think you are in a life or death situation.
Imminent demise is serious stuff, so your mind blows the event up into a catastrophe, so bad you are stuck with it forever. You take the event permanently, pervasively—affecting every aspect of your life—and you take it personally, getting the ego and its irrational emotions to reinforce your doom. You will be on the street. You'll never be able to show your face again. You will never make it. No one will love you.
The belief in the permanence of negative events dramatically increases the power of the setback, driving exaggerated fears that are creative but bogus. If the permanence factor and the false belief behind it aren't disputed, we can wind up in a cycle of dread that can lead to burnout and depression.
THE ART OF THE REBOND
The University of Pennsylvania's Martin Seligman wanted to find the mechanisms behind depression, which has boomed in recent decades. His research led him to uncover the self-reinforcing agent of permanence as a major factor in the process as well as the constituent parts of what is known as explanatory style—how we explain why bad things happen to us.
We all have a style of self-talk that either fans a belief in the permanence of the calamity (pessimistic explanatory style), or allows us to rebound (optimistic explanatory style) by taking the event as a temporary setback.
A permanent blow is hard to bounce back from. It seems futile. Nope. It only seems permanent because we don't have the imagination to see alternative ways forward. The negative event is, instead, temporary, because everything changes and adjustments are found.
"People who give up easily believe the causes of the bad events are permanent: The bad events will persist, will always be there to affect their lives. People who resist helplessness believe the causes of bad events are temporary," Seligman wrote in Learned Optimism.
One of his examples shows just how massive the gulf is between the two styles of self-talk and why it's so important to know which style you use and how you can adopt an optimistic explanation for the tough events that happen to us. Someone who takes a setback as permanent would think, "I'm all washed up." Meanwhile, in the temporary framing of the optimistic style, the personalization and endless ego doom are swapped out for "I'm really exhausted."
THE WAY OUT OF FUTILITY
One of Seligman's discoveries was the role of futility in stoking pessimism that leads to depression. Some people, faced with a difficult challenge, give up and adopt a behavior he called "learned helplessness." They believe there is nothing they can do to change the situation, so they give up.
Learned helplessness goes against everything the science knows about what makes for thriving humans—the ability to adapt, to turn challenge into strength, and to determine the content of life through autonomy, competence, and personal growth. Action frees us from the yoke of our own minds that keeps us stuck in past setbacks and regrets, and moves us forward. Pessimistic explanatory style locks us out of our own aspirations.
The most accurate prediction for 2019 is change. It will happen in many different ways and we will adjust, because we are the adaptable species. What we need to move past reflex permanence is a belief in the nature of life: change.
You, me, the world around us—it's all impermanent, always shifting, along with our minds as we gain insights from others, books, reflection, new encounters, new energy and strength, and swing around to another outlook—that the issue is changeable and temporary. It's not super-imaginative, but it's all we need to build the optimistic reframing essential to resilience.
GETTING OUT OF OUR OWN WAY
We can counter the self-talk of permanence with an embrace of one of the most useful concepts for living in a world of trials and tribulations—the temporal nature of events and especially the ideas in the heads of those who experience them. The goal is to see negative occurrences as one-time, one place and subject to changing conditions. We want to keep the ego out of the situation as much as possible, since it is prone to exaggeration and irrational emotions that perpetuate dire thoughts.
The next time a setback strikes, catch your self-talk. Is the story in your head locking you into unending gloom and doom? Are you using pessimistic-style language such as, "this always happens to me," or "I'll never make it"? Ban those words from your vocabulary when they are used to lock you in to a self-inflicted bunker.
Instead, you can reframe pessimistic self-talk by adopting the language of optimistic explanatory style, which sees time as the transitory realm it is. Words such as sometimes, recently, lately, and maybe keep setbacks in their rightful place, as painful, tough, but restricted to a time and place and thus survivable.
You don't have to be an eternal optimist to change self-talk. Pessimists can learn to catch themselves when the false beliefs go off and reframe their words and interior stories to reflect transient experiences.
You can also overcome that failure of imagination that strikes when setbacks stagger our ability to see a solution. Instead of having to have a perfect vision of a new reality, focus on the fact that change will come, even if you don't know how. Tell yourself, "I don't know how but somehow." Make it a mantra, and you move forward, activate agency, and your mandate of self-determination, which builds confidence and positive emotions that can overtake the fear factory in that noggin.
If you would like more details on our stress management programs or work-life balance trainings, including building optimism and resilience, please click the button below for more details.