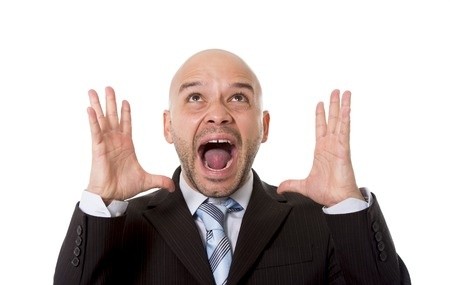 Brian, a VP for a large tech firm in San Diego, gets up at 5 a.m. every morning and spends two hours plowing through messages at home before he goes to work. "It just seems futile some days," he says. "Like I can never dig out."
It's a feeling that cuts across many organizations today. I heard a lot of similar stories from executives at the Supply Chain Leaders in Action conference in Scottsdale, Arizona, where I gave a workshop on how to deal with the central fact of work-life these days: Crazy-Busy Work. The executives I spoke to, from Safeway to Starbucks, were drowning in email, interruptions, and trying to do multiple things simultaneously.
Crazy-Busy Work isn't just a problem for individuals, it's a major productivity issue for organizations, since it drives disengagement, burnout, shrinking attention spans, poor decision-making, and creates a style of work based on autopilot reflex, action before thought. When we operate in defensive mode, reacting to the incoming, instead of managing the practices that drive overload, it takes longer to get the work done and we make a lot of mistakes.
DIGGING OUT
The truth is, the way we work isn't based on what the science says, or anything at all. Most of us are simply reacting to people and devices all day. The number one productivity goal of every organization should be to use the data on what works to help teams dig out from under the siege of devices, interruptions and information overload.
It may seem hopeless, but it's not. A series of adjustments to work style and how we manage demands, from devices to multitasking and stress, can turn it around, so that we are less crazed and more productive. As the mariners say, we can't control the wind, but we can adjust the sails.
If your organization would like to rein in Crazy-Busy Overload and the reduction in productivity that comes with it, here are five keys to getting it under control:
1. Control Time Urgency. The unconscious habit of rushing is the "Crazy" in Crazy-Busy. It drives frenzy and false emergency, making your team think every minute of the day is an emergency. It has been shown by researchers to be a heart attack and burnout risk even for people in their thirties. Speed isn't the key factor; velocity is, conscious movement in the right direction.
Nonstop motion makes everything appear urgent when we haven't taken the time to think about what is urgent and what isn't. It's a speed trap easy to get caught up in, since time panic and the stress it sets off is very contagious. We are hardwired to pick up on the emotions, facial expressions, and tone of voice of others. It's part of our social bonding equipment, but it's destructive in this case. We have to opt out of the frenzy, and ask when we're rushing, is it an emergency or is it a speed trap?
2. Set the Terms of Engagement with Devices. An unbounded approach to devices, allowing messages to avalanche in at any time, is not sustainable. Every email results in six emails, three going, three coming back. The average corporate user today gets 133 emails and 77 Instant Messages per day.
The solution lies in adjusting how we respond to email. Instead of allowing devices to set the terms of engagement, we have to do it, by checking email at designated times and keeping mail software and noisemakers turned off unless they're in use, and by doing what some leading companies are—mandating less email and more phone messaging. An email etiquette handbook or norm guide is a great way to make sure that humans are setting the terms of engagement.
3. Increase Attention. The chief productivity tool, attention, is under siege these days from interruptions, devices, and multitasking, which researcher David Meyer at the University of Michigan says slows you down. The result is shrinking attention spans that can't find the space to concentrate. That means it takes longer to get the job done, and there's more sense of overwhelm as the devices and their "bottom-up" attention make our days feel out of control.
The more you check email, the more you have to check it. Impulse control is eroded by interruptions and the increased stress they trigger (up to 105% more annoyance, a study by Bailey and Konston showed). Strategies to build attention and manage interruptions are essential to keep fractured brains focused on task.
4. Set Boundaries. Technology has blurred perimeters and boundaries and created the illusion that we can do it all because we have our digital friends at our side. The reality is that this is an illusion. Brains go down well before the body does, brain scientists tell me, and take the work down with them.
We are not hard drives with hair, and when we try to be, productivity and health suffers. Harvard researchers Nash and Stevenson say that boundaries are a success tool, something we can all get better at. What boundaries does your team need, and how can they make them more effective? Our productivity program gives you a batch of tools to choose from.
5. Refuel Energy. Contrary to what most of us would like to believe, humans need to be refueled on a regular basis. In fact, the source of productivity in the knowledge economy is who has the freshest brain. When we pay attention to the brain's natural 90-minute alertness cycle, the need for cells to refuel after activation through oxygen and glucose, and the power of energy-creating breaks during the day, productivity soars.
Your organization can put an end to the siege of Crazy-Busy Work by reining in devices, interruptions, multitasking, and information overload. The research shows that productivity is not a function of how fast you can go or how many things you're doing at one time. It's about informed performance, thinking before we act, and managing demands, instead of being managed by them.
If you would like more details and pricing information on our time management and productivity program, "Managing Crazy-Busy Work," click the button below.