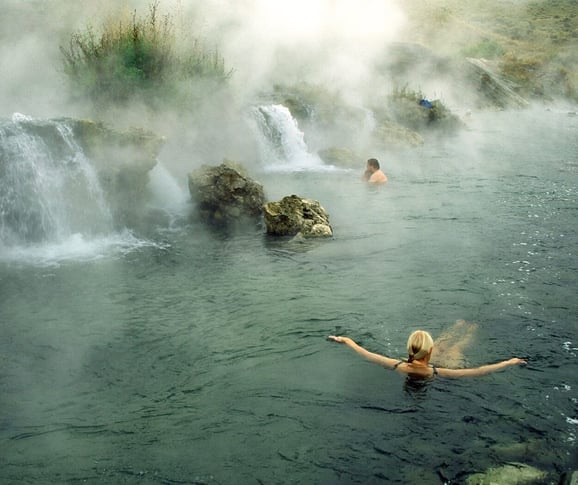 Fifty percent of your potential happiness is genetic, say researchers. Sorry about that. You can't do much about that. Another 10 percent comes from your circumstances (geography, family, health). Sorry again. That leaves you with 40 percent you can actually do something about. This falls into a realm known as "intentional activities."
It turns out that your happiness depends on the proactive choices you make to participate on this planet, your experiences.
The participant experience is one of the most potent and least known paths to happiness, work-life balance, and a thriving life. Engaged leisure activities gratify core needs, such as competence, autonomy, and connection with others, like nothing else.
Researchers Leaf van Boven of the University of Colorado and Cornell's Thomas Gilovich have found that one of the best ways to balance work and life better is with experiences. We're happier when we choose experiences over items you can buy at a store. Whether it's a vacation, painting a canvas, playing chess, taking a dance class, or walking a park trail, these moments of full engagement contact a deeply personal realm that feeds core needs.
Researcher Thomas DeLeire examined nine categories of consumer goods and found that only one was related to happiness: leisure experience products, from vacations to tennis rackets and sports products.
ALIVE TO THE MOMENT
We spend most of our time caught up inside our heads, locked in perpetual analysis. Direct experience gets us out of the thought factory and into the life-participant column, alive to the moment.
That's a good place to be, since most anxieties and stress come from the two tenses we're not in. Experiences are the nexus of now and a great work-life balance equalizer. The road to life satisfaction runs straight through engagement, both at work and at home.
Experiences don't get on our radar, because we are conditioned to go for external rewards. Experience is an intrinsic affair, done for internal goals like learning, excellence, fun, and growth. But here's something that may make it easier to make the leap to a more experiential life: People actually like you better when they see you as someone with interesting experiences.
Van Boven and his colleagues Margaret Campbell and Thomas Gilovich found in a 2009 study that people were very interested in the doings of experiential people. Experience is two mints in one: a direct route to your own happiness, and an admired path by others.
Why is this realm so potent? Experiences can't be compared to anyone else's experience, so they don't lose their value through social comparison like objects do. They are your personal event. Also, you don't habituate to experiences as you do with a new car or phone. The new car smell won't last, but the memory of a vacation or a dance lesson will.
MEMORIES PRIME MOOD
The interactive nature of experiences sets off multiple neuron firings in the brain that form memories that stick with you, creating the positive memories that remind you that you like your life.
The more positive and novel the recent experiences you can recall, the higher your life satisfaction, report researchers Kennon Sheldon and Sonja Lyubomirsky. Another reason experiences are so fulfilling is that they tend to be done with others, satisfying our core need for social connection.
There's a different skill-set needed to activate a participant life. Unlike the work side, which is about outcomes and results, the point of life experiences is simply to be in them for the inherent learning, fun, challenge, or growth. Some of the most important skills are those that open the door to direct experiences, from attention-directing, to risk-taking (not worrying if you look like a fool in the dance class), to the pursuit of competence.
FULL IMMERSION
The magic of direct experience comes from its ability to root us fully in the moment of living. Vacations, and particularly adventure travel, such as the adventure tours offered by companies who are members of the Adventure Travel Trade Assoc., are superb at immersing us in the unfolding engagement of our experience. Active leisure experiences, whether it's biking, hiking, or cultural interactions, crowd out the self-referential part of the brain that pumps out worries in other tenses.
You can't be anywhere else than where you are when you're immersed in your experience, which makes it a great stress management tool. There's no room for self-talk about the past and worries about what's going to happen tomorrow. The ego gets benched, allowing the authentic self to step forward to enjoy, learn, or try without the judgment killjoy of the external agenda (How am I doing? What am I going to get out of it?). The experience itself is enough.
When you're in an activity where your skills meet a challenge, you're vaulted into the higher realms of optimal experience, or flow, a state of absorption so complete that your thoughts and deeds are one.
This is as good as it gets on the third planet from the sun, as close to anything that can be imagined to what we know as happiness, as Mihaly Csikszentmihalyi, the father of flow, has put it.
And it's out there, if you are.
If you'd like to explore the power of full-life activation, click the button below or check out our Work-Life Balance program and online classes page.