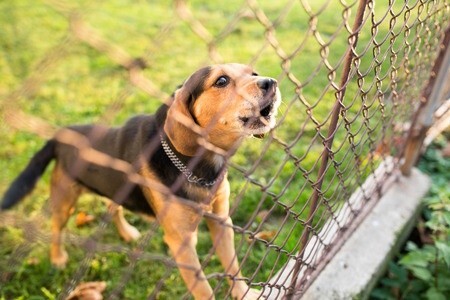 YOU DON'T SEE a lot of dogs running corporations or doing brain surgery, but in some ways they are a lot smarter than humans. Take, for instance, how they respond to a stressful event, say, a neighbor and his dog from up the block passing by the perimeter of your house. Your dog gets a whiff of that intruder, and bam! Let the barking begin.
This makes dogs great security guards and sometimes the bane of neighbors. When the dog reacts, its ancient defense mechanism, the amygdala—the same organ that sets off human fight-or-flight—goes off with the timeless trigger built to insure survival through instantaneous recognition of danger and immediate response.
LIKE IT NEVER HAPPENED
Now what happens after the stranger dog has gone on to sniff the tree trunks, grass, and hydrants blocks away, or heads home for some Kibbles 'N Bits? Does your dog keep barking for another two hours? Two days? Two weeks? Two months? Two years? No way. The dog drops the event like an old chew toy. It's like it never happened.
That's what makes dogs smarter than humans. Because we keep barking long after the stressful event is over. We hang on to the stress, clinging to the undertow of emotions.
But we don't have to. We have the power to shut off stressful events right after they happen and avoid turning them into false beliefs we ruminate about for months on end, something we learn in my work life-balance and stress management training programs.
Cutting stress off at the pass after it goes off is crucial, because if we don't, the emotions triggered by our ancient defense equipment—which isn't designed for the social stressors of the modern world—will feed your brain catastrophic thoughts. A part of your brain thinks you're going to die that second, which is pretty catastrophic. These thoughts form into a false story we tell ourselves that drives the stress reaction.
YOU CONTROL HOW LONG THE STRESS LASTS
Because they are in our head, we think the catastrophic thoughts are true. The longer they remain unchallenged, the more we think about them over and over, which convinces us that the false beliefs and worst-case scenarios are valid. Then we're stuck with them for days, weeks, months, and, yes, even years.
Managing stress is a function of perceived control over demands, known as cognitive appraisal, how you weigh the threat. Stress is relative, in other words, to how much control you feel over demands. You can reframe the story of the threat to one that is controllable.
The fact is, you control quite a bit more than you know. You control how long the emotional reaction lasts and the story that sets off the emotions with the stress response.
It's not the external event that causes stress; it's your reaction to it, the story you tell yourself about the stressful event. The false story set off by the caveman brain—I'll be fired for that missed sale—can be countermanded if we can take the canine cue and drop the whole thing.
This is something we can do by creating a new, factual story in which the rational mind of the 21st century brain can take back control from the clutches of the ancient brain. When stress is activated, the perceived threat streams straight to the neurons in the original brain, the limbic system and its chief sentinel, the amygdala, hub of the emotional brain, bypassing the prefrontal cortex and hijacking our modern faculties.
We have to be able to catch ourselves when we feel the emotions of stress go off and reframe the story by waking up our modern, analytical brain.
ARGUE WITH YOURSELF
This means we have to argue with ourself and dispute the false beliefs set off by the fight-or-flight response. How do we do that? First, we identify the false story that triggered the danger signal. What thought pushed your button and made your ancient brain feel you are about to die?
What made you feel you couldn't cope or handle something, which is the caveman brain's instant trigger, something beyond coping capacity? What form did the imminent demise take? I'm never going to get over that criticism. (You will.) If I can't get it all done, I'm going to lose my job. (No, you won't). These are exaggerations, and you can overcome them.
Next, round up the evidence of what happened, looking at the basic facts, and determine what the most likely story is, not the most catastrophic. What other causes are there for the event other than the worst-case scenario?
One of the things that fans the exaggerated thoughts of the stress response is that we take the event as permanent and personal, which jacks up fear or embarrassment by making everything appear hopeless and directed at you personally.
NEVER TAKE IT PERSONALLY
To escape these boxes and drop the event as adeptly as a cocker spaniel, we need to see the situation as changeable, specific to factors that only happened in this instance, and not take it personally.
Things happen in the world. You live in the world, so things happen to you. Taking things personally unleashes emotions, ego, and an irrational state that blinds us to the fact that taking things personally is a self-infliction.
Then you create a new story. Write it out on a piece of paper or put it on a screen, showing how you are going to solve this challenge going forward.
Say there's a tough deadline causing you to think you can never meet it. You tell yourself you can handle it, because you always wind up handling it in the end. I can do it by unloading other to-do's that aren't as much of a priority, getting more support, delegating, changing aspects of the deliverables, negotiating more time, breaking it down into daily chunks I can do first thing each morning, or whatever reason you can find. What's your new story to solve the stressor, something you're going to take action on?
The key to the practice is catching yourself in the act of stress, so you can use your modern brain to find out what's under the stress, what's under that, and so on until you have unmasked the bogus belief, which lets your brain know that it's not a life-or-death emergency.
When your brain knows the alarm is false, the stress response stops in three minutes. You have to shut off stress before it can entrench false beliefs that lead to dire ruminations that keep you self-inflicting for weeks and months on end.
As a reminder of your new role model, purchase a chew toy from your local pet store and put it on your desk. When stress goes off, grab that toy and drop it, symbolizing the canine approach—or go after the false story and create a new one that makes you as smart as a Yorkshire.
For details on our stress management and work-life balance training programs for your team or organization and tools to control reactions, emotions, and excess barking, click the button below.