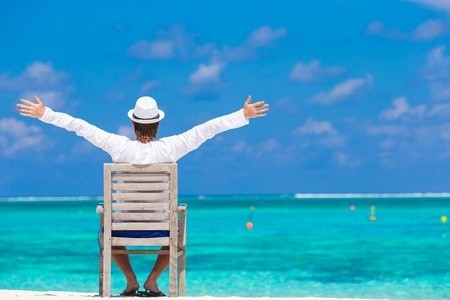 Humans are energy machines. We expend energy over the course of the workday and work year in our body and brains (which use up 20% of the body's calories), and then we have to replace it, or fatigue sets in, stress and exhaustion build, and productivity plummets.
It's a basic law of effort: Quality output requires quality input. It's called work recovery in the scientific journals, and one of the best ways to get it is through the recuperative benefits of a vacation.
TIME OFF BOOSTS TIME ON
The annual vacation, which used to be a rite of summer for families in the 1960s and 1970s, has been shrinking ever since, with nearly two-thirds of Americans telling a Harris poll that they won't be taking a vacation longer than a week. Numerous surveys show Americans giving back vacation days, 169 million days a year, according to a study conducted by Oxford Economics for the U.S. Travel Association.
There are many reasons for these trends—lean staffing, fear of layoffs, technology addiction, crisis mentality from an epidemic of false urgency and frenzy, and certainly ignorance about how our biology works, or doesn't, when it can't get the recovery it needs, from the cellular level to the blood glucose that gets spent in the course of staying disciplined and focused on the job. But executives shouldn't cheer the extra days people spend on the job, since exhaustion doesn't lead to effective work. Without recovery, employees fall prey to chronic stress, absenteeism, and burnout, the central feature of which is exhaustion.
ENGAGEMENT OR BURNOUT?
Exhaustion is the opposite of what every manager wants: employee engagement. When employees are engaged, they are 28% more productive, according to Gallup data. Engaged employees willingly put out extra "discretionary effort." They are so committed to the work they do, they go the extra mile. Studies have shown that the key dimensions of engagement are involvement, efficacy, and energy. Engagement takes physical and mental energy, participation. That can't happen when someone is exhausted and burned out.
The antithesis of engagement, say researchers, is burnout. Instead of energy, the key burnout dimension is exhaustion. Instead of involvement, you get cynicism, which is described as an active disengagement from others. You get depersonalized, demotivated. Not a recipe for interacting with colleagues and customers. And, of course, there's no efficacy when someone is weary and cynical. Instead, you have the opposite: ineffectualness.
Gallup found that only 29% of American workers are engaged. That means business leaves more than $300 billion on the table in lost discretionary effort. Add to that more than $400 billion that American business loses every year due to stress-related costs, according to U. C. Irvine stress researcher, Peter Schnall, and you begin to see that having a recovery strategy like vacations—and making sure your employees take them—is critical.
PERFORMING BETTER ON VACATIONS
The concept of the vacation was invented by companies back in the early part of the twentieth century as a productivity tool. They conducted fatigue studies and found that employees performed better after a respite. The same is true today. In one study by Alertness Solutions, reaction times went up 40% after a vacation.
Work demands build up strain and that causes a loss of energetic resources. That in turn, research by Stevan Hobfoll and Arie Shirom ("Conservation of Resources") shows, increases stress. Time off helps build lost resources back up again. Hobfoll and Shirom called it "regathering." They found that it takes two weeks of vacation to get the recuperative benefits to regather crashed emotional resources such as a sense of social support and mastery that go down when we're burned out.
Vacations shut off the stressors and pressures of work. With the danger signal turned off, the stress response stops, and the body's parasympathetic system can get to work on reparative and maintenance functions. Through the process energy-drained cells get new sustenance. Vacations build positive mood, which crowds out negative experiences/thoughts and "undoes" the physical and mental effects of stress, as Barbara Fredrickson of the University of North Carolina has documented.
VACATIONS: THE TALENT INSURANCE POLICY
Since 40% of job turnover is due to stress, consider the vacation then, a proven stress buster, as an insurance policy against losing top talent and the high costs associated with replacing an employee. Some studies show that it can cost up to two times an annual salary to replace a valued salaried employee.
Charlotte Fritz and Sabine Sonnentag (2006) found that "health complaints and exhaustion significantly decreased during vacation," and that there was a performance increase when employees got back to the job. Employees reported less effort needed to do their work.
LEADING THE WAY
Some companies are starting to put two and two together and are emphasizing vacations as a key component of productivity and workplace cultures that walk the talk on work-life balance. Highly successful inbound marketing firm Hubspot, based in Cambridge, Massachusetts, offers unlimited vacations to its employees and mandates they take at least two weeks of it.
Another major company, Evernote, also has an unlimited vacation policy. To make sure people take time off, Evernote pays employees $1000 to take at least a week of vacation. Go Daddy offers three weeks of vacation the first year on the job.
Many of the companies leading the charge to a new understanding about the role of recovery/vacations in productivity and work-life balance policies are technology companies. They are embracing a belief that in the knowledge economy, it's not how maxed-out your gray matter is that leads to productive results, it's how fresh your brain is. A focused, energized brain gets the most work done the fastest. Policies that keep minds in the red zone of chronic stress and see endurance as a measure of commitment undermine productivity and fly in the face of all the data.
There is a word on the other side of the hyphen of "work-life" balance. The life side is essential to resupply the resources needed to get the work done well—and, is, after all, the point of all the work, isn't it?