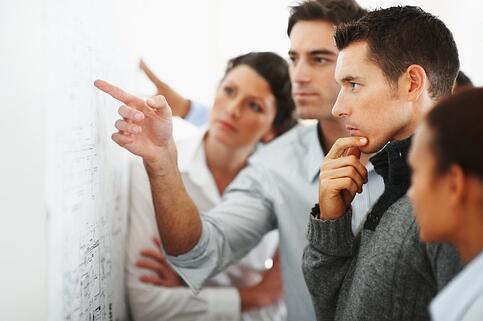 IF THERE'S A SECRET to the universe that's not generally known, it's that the magic in work and life comes, not from being a spectator, but from being a participant. You'd never know it, of course, given how much time we spend staring at digital screens.
The consensus of behavioral scientists is that humans are designed for action. The two key elements for long-term fulfillment are novelty and challenge. No wonder, the average state of someone watching TV is a mild depression, as research from Mihaly Csikszentmihalyi has found—especially given what's on TV, Dog the Bounty Hunter, Worst Tattoos. Depression is more than a natural reaction to superb fare like this.
Nobody wants to sit at the office and watch others participate or be a cog in a wheel. Everyone wants to feel like they can use their talents to achieve results, be effective, and have a sense of contribution. We were not born to sit on the bench. Our brain neurons are designed for us to be in the game and contributing. When we participate, we satisfy core psychological needs crucial for gratification. Lack of involvement fuels boredom, cynicism, and learned helplessness.
INVOLVEMENT INCREASES PROFITS
Management studies testify to the importance of employee involvement. USC's Edward Lawler studied the performance of a number of large firms and measured them on various financial indicators—from sales and equity to assets and stockholder investment. He found that companies that invested in employee involvement had a return on investment of 19.1%, higher than any other metric. Greater employee involvement also increased job satisfaction and work-life effectiveness.
Lawler wrote that, "Employee Involvement, if well implemented, changes the fundamental relationship between individuals and the organization they work for. It really builds [employees] in as a business partner, so they know more and they do more to make the organization successful, particularly in industries where the human component is important—most knowledge work, high-tech, and many kinds of service industries."
When people participate, they feel a part of the process and team. They feel trusted and valued, which are key to employee engagement, which is another way of saying employee involvement. With a vested interest and more self-initiative, the effort level increases and along with it performance. Data from Gallup, which has been tracking engagement metrics meticulously for a number of years, shows that engagement can result in employees being 28% more productive.
LEAVING MONEY ON THE TABLE
Yet few organizations encourage employee involvement or engagement. Lawler estimates that only 12% of employees are highly involved in their work. The command-and-control style of management still predominates when the research shows the opposite, that collaboration, self-responsibility, and self-initiative are much more effective at generating employee engagement.
Over the last two decades scientists have discovered that the most potent motivation is not fear, external payoff, or even bonuses, but something completely different, intrinsic motivation. That comes from within, as does the discretionary effort of engagement. Intrinsic motivation can't be commanded; it can only be enabled and encouraged through involvement and internal goals such as excellence, service, challenge, learning, or inherent interest.
EFFORT DRIVES SATISFACTION
Researchers Judith Harackiewicz and Andrew Elliot found that intrinsically motivated employees are continuously interested in the work that they're doing. When employees feel they have a stake in the process and can make contributions, they are self-motivated, self-managed, self-propelled. That satisfies core needs such as autonomy, feeling that you are not being forced and controlled, and competence, a sense that you can be effective. Satisfaction is not something that comes from doing something easy. It's the result of effort. Participation sets up a cycle of effort followed by the internal payoff of satisfaction.
How can managers unlock the power of intrinsic motivation and create more employee involvement and engagement? The answer lies in promoting more self-responsibility and self-assessment, including employees in on decisions, and providing feedback that satisfies the competence need. It's not "great job," but "I love how you did that project," which plays to their effectiveness.
Allowing for more choice in how people do their work invites more involvement. We all have a job we have to do, but how we do it can tap the autonomy need as it creates a feeling of competence for doing tasks or projects in a smarter way.
MULTIPLY PROBLEM-SOLVERS
Managers don't give up final decision-making power. They simply spread the wealth around to bring in contributions across the company that can help create better outcomes. How much better off, nimbler, and quicker, is a company with a highly skilled roster of people at all positions capable of making decisions, instead of having everything left to a handful of overstretched executives?
Every company's main resource is its people. Unleashing them to participate to the fullest degree is the best long-term strategy for increasing productivity, sales, innovation, and retention. Otherwise, there's a lot of money and effort left on the table. Gallup estimates American businesses drop $300 billion a year in lost productivity due to unengaged personnel.
If you would like to activate the untapped power of an engaged staff, click the button below for rates and details on our engagement programs.