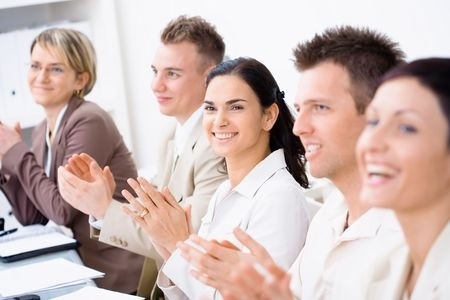 For all its myopia, homo sapiens has stuck around for millennia because of its ability to survive all sorts of environments, climates, skullduggery, and duress. We have a talent for adapting and bending to new circumstances, matched only by how we resist the new world initially.
We can go from hating kale to almost liking it, because it's good for us. We can be convinced that a haircut that shaves one side of the head is not the unfortunate result of brain surgery, but is stylish.
REFLEX RESISTANCE
We are the adaptable species that doesn't like to change but will— given an appropriate amount of reasoning or adoption of the new thing by others. In fact, as much as most of us like to hang on to the old way, our real nature is change. We're changing from our toes to the tips of our hair every day we are alive. The world and people around us are changing. The work we do changes, and we have to adapt, or get left behind.
Teams and divisions get consolidated, shrunk, merged, purged. People who have been doing things one way now have to do them another. The reflex is to resist the new way. What is it that unsettles your team about change? Are there ways to get sign-on to new policies and systems without an insurrection? How do minds come to accept a shift away from what's always been done?
The surprising key for anyone involved in change management is that we are all of distinctly two minds. The defensive equipment in the brain wants things to stay the same. There's less chance of something calamitous happening that way. On the other hand, our brain neurons want two things more than anything else for long-term fulfillment: novelty and challenge, both of which have to do with stepping into the unknown and unpredictable.
It's a battle the defensive brain usually wins, at the cost of growth and moving forward invidually and employee engagement and employee morale at the organization level. To get people to sign on to change, we have to appeal to the higher realms of the brain that want to learn, take initiative, and make progress. That's something we can do when we get them involved in the process and understanding the rationale behind the changes.
THE RATIONALE FOR CHANGE
The research of Ed Deci and Richard Ryan at the University of Rochester shows that when you give someone a reason for doing something, they're more inclined to do it willingly. Even if they don't want to do it, if you give them a rationale for why they should, they internalize the task, which increases its importance and, as a result, the willingness to do it. It's like the kale. People buy into the health argument, and suddenly, it's less like chewing alfalfa and more digestible.
Letting people know why they have to do things is essential to digesting change. This is because the higher brain equipment that seeks challenge and growth wants us to satisfy key psychological needs, such as autonomy and competence, that require we be more than mannequins. Commands and control may get acquiescence but not agreement, and that fuels disengagement, the opposite of what both manager and employee want.
We are all designed to be engaged, to make choices and be involved in things that affect our world, job, life. When we feel self-responsible and a participant in the change, that activates the core needs that make us feel true to our aspirations and goals. We feel part of the change, instead of part of the order-taking.
Since we have the equipment built-in for change with our latent desire for novelty and challenge, all we have to do is appeal to it by seeking out the input and assessment of those who are going to experience changes. The more transparent about the change we can be, the better. Have everyone make suggestions about how to implement the changes. Get them to help chart the path forward.
This creates the perception of choice, and with that, resistance turns into shared redesign. Use the opportunity to ask for thoughts on other changes that could help the work process move smoother. They can win new process improvements, and you get people feeling a part of the team enough to help move the change forward.
I've found that work-life-balance trainings are a great way to introduce process upgrades and fixes that make everyone feel they are, not only a part of the initiative, but also being listened to and valued during the process of change. Our work-life balance trainings, for instance, help people embrace change, because they see the concrete benefits that come from them, making work and life less difficult. This paves the way for the larger change issue or reinvention. Doing them in tandem builds trust.
CHALLENGE DRIVES SATISFACTION
The language of change is critical. The phrasing should be informational, not controlling. Instead of relaying an edict and that you "have to" do this, lay out the scenario and ask the team for their suggestions. How can the new situation move us all forward? How do we implement it?
Progress is one of the key levers for employee satisfaction, so people want to move in that direction. They just need to feel they play a part in making it happen. That's the autonomy piece.
The fear of change, is, of course, about security, ego, doing new things that you might not have done before, exposing a learning curve. Try to move the issue from the personal to a group participation project. Have everyone contribute something to the process, so everyone is learning and a part of charting the new course.
Research shows that development programs are one of the big levers for employee engagement, no doubt because of the novelty and challenge mandate of our brain neurons. Satisfaction, brain scientists say, is a byproduct, not of doing what's easy, but of doing things that make us stretch. We can't satisfy our need for competence by doing what's easy.
Since it comes with challenge, change, then, can be a key route to job satisfaction—when people know why they're doing it and that through their active participation they are the change they are making.
If changes are affecting engagement for your team, click the button below for details on our work-life balance training or employee engagement programs, which can turn attitudes and engagement around and open the door to change.