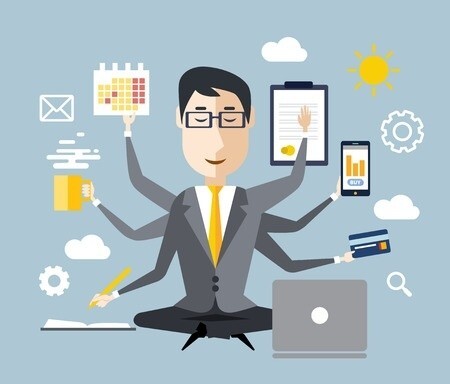 A few people perform fabulously in a trance, like the Whirling Dervishes, the dizzying Turkish dancers who spin themselves into human tops, but for most of us a trance-like, mechanical work style doesn't deliver a transcendent outcome. It produces a a rote commotion and busyness that fuels stress, undercuts productivity, and keeps work-life balance on the sidelines.
Nonstop motion makes everything seem urgent when we haven't taken the time to think about what is urgent and what isn't. Mindless frenzy is not the same as forward movement and mobility. The default is to acting before we think, kicking decisions down to the rote parts of the brain that don't have our full attention.
The mechanical momentum, can't-stop-for-a-second approach, plays to the autopilot of stress, which is itself all about reflex action before thought. The more we are driven by default behavior, the less control we have and the more stress.
With the proliferation of devices and information overload, it's easy to wind up on mechanical output, devoid of the input needed to tailor the right effort to the job. Just because there's activity doesn't mean it's the right activity. Most of the action in this state is reflexive, coming from a defensive posture. That's not a prescription for critical thinking.
In the tunnel vision of reaction, there's no time or inclination for proactive managing, planning, or even the upkeep of health. We get so far on task that there is little maintenance of the equipment.
ARE YOU A HARD DRIVE WITH HAIR?
And there needs to be, because our physiology prepared us for hunting and gathering, not for hours on end at workstations. Sitting at a computer monitor for eight to ten hours a day is an act loaded with reasons to take a breather. Repetitive motion injuries—carpal tunnel, back problems, neck problems, stress—thrive on the continuous motion loop. Unlike the computer we're working on, we don't have Pentium procesors.
A study by the National Institute of Occupational Safety and Health found that brief but frequent breaks can reduce the risk of a host of injuries. Four five-minute breaks a day for walking or stretching resulted in less discomfort in the neck, arms, shoulders, and back for study participants. Workers also reported less eyestrain. Short walks at regular intervals buoyed energy and helped people recover from fatigue, which enhanced performance.
Cutting stress and improving work-life balance is a "break" dance, knowing when to step back and energize on a regular basis to charge up full engagement.
Time-outs rejuvenate brains and break up rigid postures. They can help prevent an assortment of back injuries, from bulging discs to lumbar strain. Medical experts advise frequent breaks and exercise to prevent and treat carpal tunnel syndrome, the painful and sometimes disabling inflammatory disorder that affects wrist, hands, and fingers, now an epidemic among office workers.
COMPUTER VISION SYNDROME
Another injury triggered by unbroken sessions at the keyboard is computer vision syndrome, a complex of eye and vision problems caused by staring for hours at computer monitors and screens. The syndrome afflicts 90% of people who use a computer for more than three hours a day, according to the Occupational Safety and Health Administration. Chances are very good that includes you.
The problems include eyestrain, dizziness, blurred vision, headaches, change in color perception, excessive fatigue, and double vision. Sitting at the computer for hours can also aggravate existing conditions, such as farsightedness, nearsightedness, and astigmatism. Scientists have found that we blink less when we're zoning into the glow, which creates dry-eye problems.
Since humans were designed to spot dinner on a savanna off in the distance, not Internet fine print, the muscles of the eye are in their most relaxed state when looking at faraway objects. The eyes need to stretch, which is why excessive close-up duty can disrupt distance vision. People who have been in a submarine for a while have trouble with distance vision when they emerge from close quarters. Their eyes have adjusted to see only short distances.
Ergonomic experts recommend frequent brief breaks for those with intensive computer usage—30 seconds every 10 minutes, or if you can't do that, five minutes every hour. One study showed that microbreaks every 15 minutes were very effective in reducing physical discomfort at computer monitors (Balci, Aghazadeh). During the breaks, get up and move around, gaze out the window, do some stretches, walk down the hallway. Once your body starts aching, you concentration has already left.
POPPING BLOOD VESSELS
The traditional approach to fighting mental fatigue has been to press harder and pop those blood vessels to the finish line. But the evidence shows that brains don't respond well to this approach. On study found that mental fatigue took hold after three hours of continuous attention (Boksem). Mistakes and false alarms increased with time on task, and goal-oriented planning decreased. Other studies show that too much time on task reduces the ability to prepare future actions.
Jim Goodnight, CEO of North Carolina software giant SAS Institute, believes software developers can't do more than two hours of great work a day. As mental fatigue increases, so do the number of errors.
As logic would have it, the way around the fatigue factor is to step back and recharge the spent mind with a Strategic Pause. Never fear, it's only a "pause," not a dereliction of duty. You are coming back to the action, refueled.
Since physical movement drives energy and creativity, it's important to get away from the desk and out of the office to get the most out of your Strategic Pauses. Take two 10-15 minute pauses in the morning and two in the afternoon. Use the time to make a mental break from the work. Walk a few blocks. Listen to some music you like, plan your weekend. These are energy opportunities to fortify flagging gray matter.
Recharging throughout the day increases vitality and productivity. Studies show that breaks from a few seconds on the assembly line to 15 minutes to vacations increase productivity. Response times go up and fatigue goes down.
It's easy to get caught up in the action and forget that we're not on a sprint to the death. It's a marathon. We have to allow bodies and brains to refuel regularly to avoid breakdowns and brownouts.