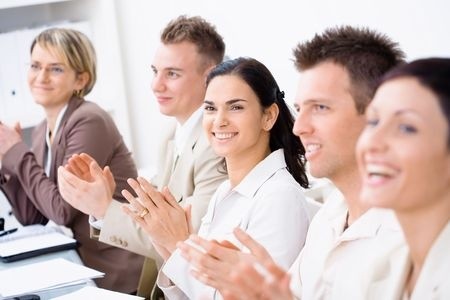 We all learn the skills of our trade, but few of us ever learn how to work in the most productive way with those talents, based on what the research actually says. Most of the time the way we work isn't based on anything at all, other than reacting to others and devices all day. That fuels a lot of bad habits, since reacting before we think drives the stress response, overwhelm, and short-circuiting minds crazy.
There is a way to get out of retaliatory mode and put the thinking in charge, employee training. It's not just what you do, but how you do it that makes for effective performance. Development programs can extract minds from triage mode with the best solutions from the science.
OUTSIDE INTERVENTION
This is the mission of the training programs I do, from work-life balance to employee engagement and stress management. Skip the torment and go straight to working smarter. The right self-management practices are the difference between a sustainably performing team and one that is imploding. It takes outside intervention to put bad habits to rest and create good ones whose benefits can last a lifetime.
The research shows that employee training can pay big dividends. Stress management training programs have been found to increase performance 21% and cut absenteeism 24% (Munz, Kohler, Greenberg), while teams who acquire work-life balance skills work 21% harder than those without them (Corporate Executive Board). Productivity jumped 17% for companies who had employee training programs (Bartel).
f
Beyond the powerful stats, there's also something else that happens in employee trainings. When organizations set aside time to stop, reflect, imagine, and troubleshoot, communication is facilitated that otherwise wouldn't happen, and it leads directly to a more engaged team, higher morale and participation.
Everyone is busy, maxed to the tips of their hair. It leaves no time to flag the practices that aren't working, share ideas, plan ahead, seek advice, and make the tweaks that keep people engaged and off the burnout track. Everyone races downriver in their separate barrels headed for a long drop over the falls. Open up the conversation in the training setting, though, and the conversations and insights come forward.
SELF-INFLICTED DEADLINES
A manager from a global firm in one of my productivity programs shared with his team that he was surprised at how often his staff will set themselves up for heartburn by promising overly ambitious turnaround times. His comment surfaced an issue that was driving overload and burnout at this firm (as well as at most I work with): overpromising without regard to the realities of time and physiological capacity.
The debate that followed was animated, as the group discussed how this reflex habit drove frenzy, crisis mentality, and poor work-life balance. Then we moved to zero in on criteria that could be used to estimate turnaround time more accurately. Lack of detail on assignments was a problem. We developed a form that could flesh out the particulars and approximate time estimates for key tasks, cutting down on excess messaging in the process.
As is the human wont, everyone thinks they are the only person on the planet who is experiencing a given problem. When the subject gets an airing, there is relief and recognition, and plenty of others wrestling with the issue. Better yet, there are individuals who have suggestions and sometimes solutions for the challenge. Trainings bring out the best in teamwork.
UNLEASHING INVOLVEMENT
Participation is the key to employee engagement, and development programs unleash involvement that makes everyone feel they are part of the solution. At a training for a federal government agency, one woman shared how she had gotten the IT department to help her turn off visual notifications on her computer monitor. Without the constant flood of notifications, she was getting more done and focusing better.
At a follow-up training for a tech firm, a supervisor detailed how she was using the stress management processes she had learned in our earlier meeting to get to the bottom of each stress incident. What was the false story? The most likely? Where was the emergency? There wasn't any. She turned the danger signal off, giving colleagues a point-by-point description of how they could do the same.
Whether the challenge is meetings, carving out family time, or how to navigate customer expectations on service, a good employee training not only provides learning opportunities from the trainer but also crowdsources the successes of colleagues and brainstorms workarounds. Out of the process come tighter teams, a roadmap to smarter norms, and an inspired crew armed with ways to manage demands, instead of the other way around.
Work-life balance, stress management, and productivity management are all proactive affairs. They don't happen on their own. The default button of reflex will keep teams and organizations behind the eight-ball of retaliatory mode. Employee training programs have to be initiated to bring the tools and forum to change the status quo, to spark employees' own built-in need for improvement and challenge.
Surveys tell us that the most important factor in job satisfaction is a sense of progress. Employee trainings gratify that need by improving not just skills, but rapport and teamwork, which in turn satisfies another powerful need, the social animal's need for connection with others. Let's get going!
If you would like more information on our employee training programs and how they could help your organization, please click the button below for details.