End the Drain of BURNOUT And Get YOur Energy and Life Back
There's nothing more important than your health. Burnout depletes your energy and spirit and can lead to stroke, depression, and heart attacks. Take action to get rid of burnout with a free consultation with stress management leader Joe Robinson, seen on CNN and Today, and author of Work to Live. Learn how to: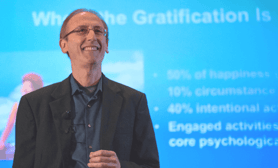 Turn off chronic stressors
Stop the engine of stress: rumination
Deactivate burnout triggers
Speak up and set boundaries
Build resilience and coping skills
Learn the best stress reduction processes
Crowd out negative emotions & pessimism
Build up crashed emotional resources
Restore health, optimism, and satisfaction
"Joe was fantastic!" -Jill "I can't recommend Joe enough - the best choice." -Alex "Joe gave me the courage to take back my life." -Kristin

To schedule a free phone or Zoom consultation, please click the orange button at right. Look forward to speaking with you!