Get RID OF BURNOUT - TAKE ACTION WITH A FREE BURNOUT CONSULTATION
There's nothing more important than your health. Stress is a factor in 75% to 90% of all doctor visits. Burnout can lead to stroke, depression, and heart attacks. Schedule a free consultation with stress management leader Joe Robinson, author of Work to Live, and find out how to get stress and burnout triggers under control. Learn how to: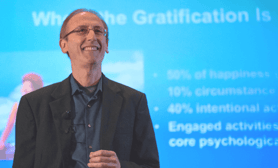 Identify and deactivate stress triggers
Stop the engine of stress: rumination
Reframe reflex reactions and emotions
Manage difficult people
Build resilience and coping skills
Improve time management, set boundaries
Use the best stress reduction processes
Restore energy, optimism, and satisfaction
To schedule your consultation, please click the orange button at right. Look forward to speaking with you!