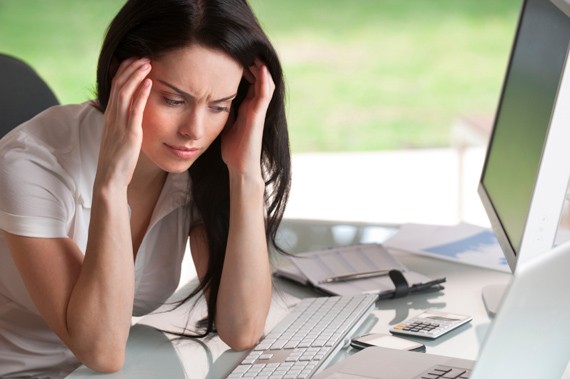 HOW MANY TIMES have you worried about a future event, only to have nothing dire happen? The answer, I'm guessing, is more than a few. We've all been down this path so many times—sweating up a dump truck of angst, only to have zero dreaded results take place. It's almost disappointing that the bad event didn't happen, you put in so much hard-fought consternation over it.
Why do we worry when there's so little chance of any of it occurring? We're designed to be worrywarts. It's part of the defense equipment that has allowed the species to survive this far by erring on the side of the negative—and, as a result, to stories as imaginative as anything penned by Melville or Kipling.
FEAR'S FICTIONAL TALES
Fear makes us all expert storytellers—and not-so-expert predictors. It specializes in creative worst-case scenarios and a stream of fiction that drives stress, "awfulizing," and the chronic anxiety process.
Stress comes, not from anyone else, but from the story we tell ourselves about a stressful event—in other words, from our own thoughts. That story is supplied by an ancient part of the brain that is out of its depth in a world of social stressors and sees everything through the lens it was created for, threats to life and limb. Any threat that overloads coping ability sets off this one-track alarm in the emotional limbic system and its hub, the amygdala.
Since it believes you are about to be deceased, the brain yells fire in your mental movie theater, concocting stories way out of proportion to the event and awfulizing bordering on the hysterical. But you are not about to expire, you are simply caught in a reflex false belief that can only exist if you take it seriously.
Crucial to the illusion is the language of stress. It produces a vocabulary that reinforces extreme, black-and-white thinking and its stories, which must be true, since they are in your own words. Except they are not.
The first thought that goes off in the brain after a setback is a catastrophic one. The self-talk tells us that it's the end of ego, job, relationship, life as we know it. This all-or-nothing thinking is made convincing by the language that comes with it, such as, "I'll never get that client," or "This always happens." "It's over." Terms like always and never exaggerate the setback, ratcheting up anger, fear, or humiliation into the life-and-death event they are not.
INFLAMMATORY LANGUAGE
The words we speak under the influence of the stress response make the false stories appear real and set up a cycle of rumination, or obsessive thinking, i.e., worrying about the stressful event. The most destructive words are those that explain things that happen to us as permanent and pervasive, such as "never" and "always," "completely," "can't," "forever," "finished," "impossible." They are a trap, leaving no way out, and they are utterly false.
This kind of language can lead to what's known as a pessimistic explanatory style, describing why events happen to us in a negative way, which has been shown to be very bad for health and performance and success on the job. People with negative explanatory style get major illnesses much earlier in life than those who have an optimistic explanatory style, they are less productive and have less rapport with colleagues.
We are what we say we are. The language of stress inflames the irrational emotions that drive chronic stress and pessimism. Or the words we use can open the door to a response that fosters resilience in the face of challenge.
One of the keys to exiting exaggerated, negative framing is avoiding the phraseology of permanence. Stressful events are not permanent. They are temporary, because the state of life is change.
This is the road out of all-or-nothing catastrophic thoughts—not taking things permanently but merely as a passing storm, after which there will be clear skies again. Words direct the role we play. They have the power to make us either helpless cynics or persistent in reframing stress and making adjustments to stress triggers.
Terms that emphasize the momentary nature of the setback or anxiety, such as "recently" or "lately," restore the 21st-century brain and rational thinking. It's the belief that a situation is permanent that fuels the panic that keeps the fight-or-flight response going. We can turn that false belief off by choosing to describe setbacks as momentary and learning how to manage reactions through stress management training something I teach in my stress management training for groups or individuals.
THE POWER OF MAYBE
One of the best terms for doing that is a word that doesn't get a lot of respect—"maybe" or "may be." We associate the term with indecisiveness, but in the right context, strategic "may be's" have the power to defang the false belief of permanence and signal that you're not out of options. It's also very useful at keeping expectations in line—another driver of stress—and holding out hope when none is in the picture.
"May be" acknowledges reality as it suggests the potential for better circumstances. It's a term that recognizes that the indisputable fact of life and mortality is not that situations and people stay the same; it's nonstop impermanence. It's our failure to accept the true nature of things, change, that is a key source of human suffering.
A classic Taoist tale about a farmer's misfortunes speaks eloquently to how the right phrasing can prevent a rush to the cycle of worry and woe-is-me. In Tao: The Watercourse Way Alan Watts tells the story of a farmer whose horse ran away. "That evening the neighbors gathered to commiserate with him since this was such bad luck. He said, 'may be,' The next day the horse returned, but brought with it six wild horses, and the neighbors came exclaiming at his good fortune. He said, 'May be.' And then, the following day, his son tried to saddle and ride one of the wild horses, was thrown, and broke his leg. Again the neighbors came to offer their sympathy for the misfortune. He said, "May be." The day after that, conscription officers came to the village to seize young men for the army, but because of the broken leg the farmer's son was rejected. When the neighbors came in to say how fortunately everything had turned out, he said, 'May be.'"
All things pass, especially emotions, which are extremely ephemeral. The goal, then, should be to have words and phrases that counter permanence ready to deploy when setbacks send us down Forever Road. What terms could you practice and have on hand on a Post-It for the next time stress pops up? What about: "It's momentary." "It's temporary." "It's not life-and-death." "I can cope with it." "I can handle it." "Stay neutral." "Recently, these things have been happening."
These phrases bring back the 21st century brain hijacked by the primitive limbic system. The experience of spoken words can trump unreal thoughts by shutting off the spiral of pessimistic and panicked thinking. The earlier in the stressful event you can fight back with positive terms the better, since extreme, pessimistic thoughts take root the longer they go unchallenged.
Worrying is a self-infliction. So we have the power to manage the language that give the false beliefs of stress credence. Counter your inner hysteric with terms of resilience, and you take back the script of your life.
If you would like details about our stress management programs for individuals, click here. For details on our employee stress management trainings, click the button below.