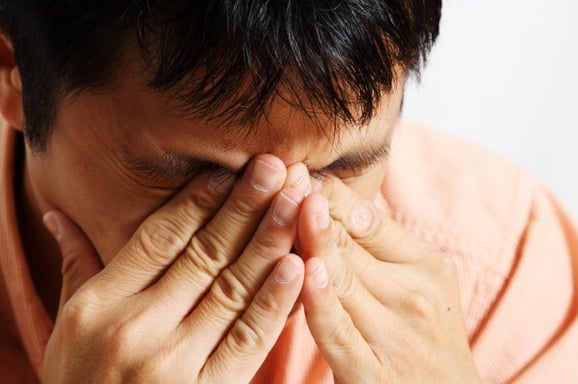 The surprising thing about stress is that it's not caused by anyone or anything else. The danger signal that trips the stress response is triggered, not by external events, but by what you think about those events. I hate to tell you this, but it's the story you tell yourself about a stressful event, that activates stress. And that's very good news, because that means you can change the story and shut off the stress.
WHY BAD THINGS HAPPEN
It certainly doesn't feel like good news when stress erupts. That's because the story set off by stress is a highly catastrophic one. The ancient part of the brain that trips the stress response thinks you are about to die that second. As a result, it feeds the brain with an extreme thought, a false belief that immediately jumps to worst-case-scenario thinking and ruminating about dire outcomes.
The pattern is autopilot, unless we stop the emotional reaction by bringing back the 21st-century brain and the right way to frame negative events. How long we stay trapped in emotional awfulizing and rumination depends on a style of self-talk known as "explanatory style," how we explain why bad things that happen to us.
Explanatory style is a concept that isn't hard to grasp. I see the light bulbs go on right away in participants in my stress management programs. Our thoughts are the problem, not what anyone else is doing to us. Manage the thoughts set off by the default stress reaction, and you control the demands, instead of the other way around. Turn off the danger signal, and the stress response stops in four minutes.
CONTROLLING SELF-TALK
When a threat overloads capacity to cope with it, whether it's an argument with a colleague or 300 emails, it activates ancient survival equipment in the brain's defense hub, the amygdala, which hijacks the modern brain and turns over command to a stowaway from the year 100,000 BC. The so-called caveman/woman brain then locks in irrational emotions and the thoughts they unleash, driven by the false belief of imminent demise.
That triggers dire and pessimistic self-talk—"I can't handle it," "I'm going to lose my job and be out on the street." Pessimistic explanatory style entrenches the false belief that the sky is falling or that nothing will ever work out. We buy the catastrophic story because it's in our heads—it has to be true! No, they are mere thoughts, and thoughts aren't real. Only experience is real.
There is another explanation for what happened other than the black-and-white, all-or-nothing frame of pessimistic explanatory style. Optimistic explanatory style reframes the reaction by bringing back the rational 21st century brain. Something simply didn't work out. A mistake was made, and it's survivable. You'll do better next time. It's hard, but you can cope.
PESSIMISTIC STYLE: HAZARDOUS TO YOUR HEALTH
Explanatory style isn't just key to controlling stress. Researchers who tracked the health of a group of Harvard students from college through their sixties (Peterson, Seligman, Vaillant) were able to show that a pessimistic explanatory style is a serious risk factor for poor health in midlife and late adulthood. The way we interpret why things happen to us can literally make us sick, set off major health conditions, and shorten our lives.
The reason is that the stress response was only designed to be active for a short period of time, since it does serious damage to our bodies in longer doses.
It suppresses the immune system, shuts down the digestive and tissue repair systems, sends blood pressure skyrocketing, and increases the bad cholesterol while decreasing the good kind. All this is intended to harness the body's strength and push blood to the arms and legs to help us fight or run during the brief time we are in harm's way.
This is why chronic stress that goes on day after day, week after week, sometimes year after year, is a factor in the leading causes of death and why it leads to absenteeism and presenteeism. Stress ravages bodies, brains, and productivity. It constricts brains to the perceived emergency, so the chief productivity tool, attention, goes missing in rumination.
It's no wonder, then, that programs that teach people how to control stress with an optimistic explanatory style have an immediate impact on health and performance. Stress management training programs, for instance, have been shown to increase company revenues 23% and cut absenteeism 24% (Munz, Kohler, Greenberg).
FROM PERMANENT TO TEMPORARY SETBACK
The right explanatory style can make all the difference for an under- pressure organization, team or personal life. The pessimistic style sees negative events as permanent, pervasive (affecting every aspect of life), and personal. It can lead to what the University of Pennsylvania's Martin Seligman identified as "learned helplessness," a belief that there's nothing that can be done.
That fuels pessimistic self-talk and terms that lock you in to the darkness—things "always" turn out bad, you'll "never" make it. Seligman discovered that pessimistic explanatory style is a road that leads to depression.
Optimistic explanatory style reverses the negative self-talk with terms that reframe the situation from permanent to temporary. It's a passing storm, like all storms. It's not pervasive but specific to a certain situation. Therefore, it's not going to affect everything you do for the rest of your life. And you don't take the event personally. That takes the ego out of the equation and the emotions that gush irrationally from it.
The optimistic style brings back the analytical brain hijacked by the primitive emotional brain residing in the ancient limbic system. You can start to weigh pro and con again. The sky is no longer falling.
The power to manage stress is within us all when we shut down the false story of stress and reframe it with the right explanatory style. This skill can transform lives and workplaces. Without an understanding of how to frame pressure, pace, and workload, the default is to the reflex catastrophic story. With the right self-talk, you can manage any challenge.
Stress management training can put your team on the path to effective performance. If you are interested in a program for your organization, click the button below for details on pricing and content. Reframe the overwhelm game.