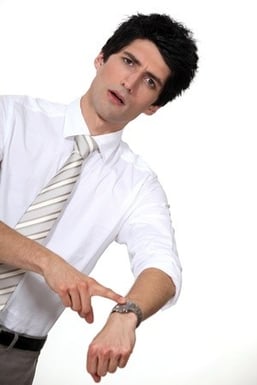 Crying wolf is a behavior frowned upon by society at large, but celebrated in the workplace. Did you get that email I sent two minutes ago? We need that report by noon! Or what, apocalypse now?
How about that person who sends every email with a giant red exclamation point on it. New cat video!
Granted there are deadlines and competitors to reckon with and work that must be done in a swift way, but that doesn't mean everything is an emergency every minute of the day, as has become the norm in most organizations caught up in the Crazy-Busy Model of performance. Time panic has become the order of the day, setting off a vicious cycle of clenched necks, churning stomachs, absenteeism, and dismal productivity.
SIEGE OF INDIVIDUAL HEROICS
Harvard management professor Leslie Perlow found in a study she did while at the University of Michigan that nonstop rushing sets off a state of "crisis mentality," that in turn triggers "individual heroics," which cause people to believe they can interrupt anyone at any time, which drives more time panic as the interruptions make people fall behind in their work.
Technology has played a large role in amping up the hyperventilation, creating an illusion that the speed with which communications travel can be duplicated by the humans on the other end of them. Devices and the interruptions they rain down on us have also undermined attention spans, and with that the ability to regulate impulse control. Without self-regulation, we have no ability to resist interrupting others or practice patience, which requires self-discipline. We want what we want NOW!
Perlow found that crisis mentality had a huge impact on performance and engagement at a technology company she studied, reducing both. The engineers tasked with designing new products were so inundated with interruptions, they would have to work nights and weekends to get anything done. It took longer to finish tasks. The obsession with speed above all else caused people to focus on individual needs over group goals and sapped any commitment the employees may have had for the company.
WHEN EVERYTHING IS AN EMERGENCY, NOTHING IS
It was all-emergency, all the time—even though the emergency was false. Everything became life-and-death, which is a perfect description of the stress response that crisis mentality sets off. It's a false emergency, unless you are literally about to die. You're not going to expire from a deadline or 300 emails, but time panic can convince your ancient brain otherwise. When everything is an emergency, nothing is.
The frenzy at this company was toxic to deadlines and quality work. One of the insidious things about interruptions is that they make you believe the work you're doing is more difficult than it actually is. Studies show that interruptions can increase annoyance and aggravation more than 100%. That makes it easier for irritation to click over into anger, increasing the stress load further.
QUIET TIME
In her study, "Finding Time, Stopping the Frenzy," Perlow argued that blind rushing is counterproductive and countered it with an intervention at the company that cut crisis mentality and dramatically boosted performance. Her solution, Quiet Time, mandated two periods during the day free of all interruptions and contacting. From 8 a.m. to 11 a.m. in the morning, the engineers couldn't be interrupted. Normal contact and messaging resumed from 11 a.m. to 3 p.m. Then it was back to an interruption-free zone from 3 p.m. to 5 p.m.
Performance increased 59% in the morning no-interruption zone and 65% in the 3 p.m. to 5 p.m. focus slot. With minds more focused, productivity even shot up 42% in the period with normal interruptions. The engineers created a new product on time without needing to work every night and weekend for months on end.
Crisis mentality undermines intellect, since stress constricts thinking to the perceived emergency of the moment. That means poor decisions, snap decisions, emotional decisions, and an inability to see beyond the latest crisis—no planning, in other words. It means colleagues at each others' throats. And it means lots and lots of exclamation points on the emails in your in-box.
We can do better by learning how to qualify urgency, setting boundaries on messaging, respecting others and being judicious about interruptions, getting clarity on what a true emergency is, resisting the hurry-worry of others, and practicing the hidden weapon of excellence: patience.
If your company would like to lose Crazy-Busy Overwhelm and work less harried and more effectively, click here for more on our productivity trainings and a smarter way to work.