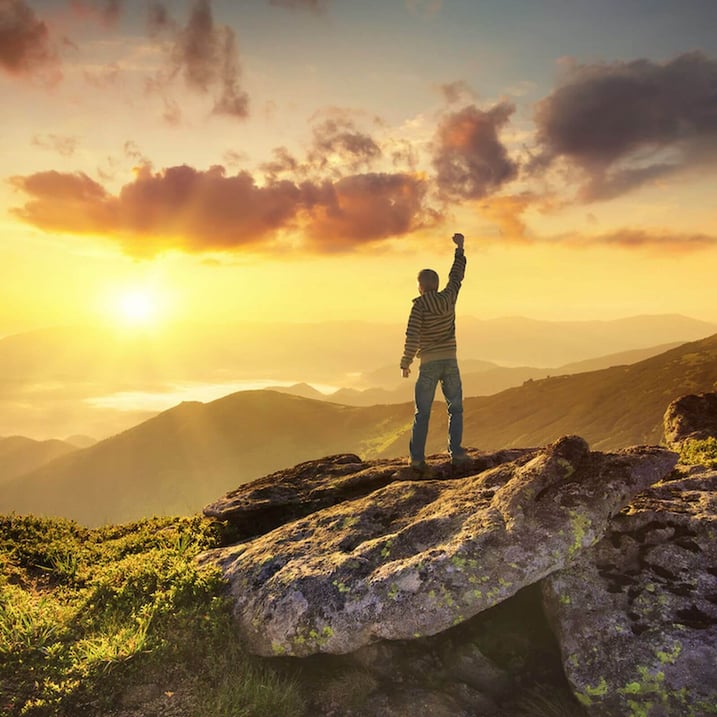 Oscar Wilde once said the difference between an optimist and a pessimist is that the optimist sees the donut, the pessimist the hole. I guess that makes pessimists better dieters.
Seriously, though, there's a big difference in these two viewpoints, one that can have a huge impact on your work, health, and life. Research shows that optimists live up to 15% longer than pessimists, have 35% less heart disease, and 30% less coronary deaths.
Besides that, optimism can prevent depression, increase social connection, boost performance on the job, increase success, and make you more resilient in the face of setbacks.
That's not bad. Pessimism does have its place, since we don't want to deny the negative, which is part of life, but we don't want to dwell on it, since pessimistic rumination is a big driver of stress, inflammation, hypertension, and can also lead to depression. Too much negativity can undermine work, friendships, and health.
Who would you rather work with or hang out with, someone who lightens up the day and supports you, or someone who habitually complains and blames?
It's no wonder then that a more positive approach fuels more positive results. It energizes, broadens opportunities, uncovers solutions, vastly improves work-life balance, and, best of all, makes you feel a lot better.
THE NEGATIVITY BIAS
Unfortunately, this common-sense mode is not our natural wont. Humans are born with a default to find the negative, known as the negativity bias. It's a survival instinct, the reason the species is still around. We survived because of a well-developed impulse to look out for trouble. Today, though, it's no longer life-or-death every day, so we need to make some adjustments to align our ancient brains with the modern world.
Researchers have found that positive emotions can dramatically improve the decisions we make, the opportunities we pursue or not, the people we connect with or don't, the direction of our careers, the sales we're making, the work-life balance we feel we're achieving, and the level of performance at work.
A study by mathematician Marcial Losada looked at the effect of negative emotions in the work setting. Losada and his team observed behavior in company meetings behind a two-way mirror. He measured positive v. negative statements, self-focused or other-focused, or people who favored inquiry or advocacy.
HIGH PERFORMERS ARE OPTIMISTIC
He found that high-performance teams have a 6 to 1 ratio of positive to negative statements, while low performing teams were under 1 to 1. That gap makes a huge difference to the organization and the individuals in them. The best performers scored high on profitability, customer satisfaction ratings, and evaluations by others.
High performance teams were more flexible, resilient, and not stuck in self-absorbed defensive behavior. High performance teams asked questions as much as they defended views and had attention outward as much as inward. Low performance teams had lower connectivity, asked no questions, and had almost no outward focus.
Negative teams got stuck in self-absorbed advocacy. Negativity causes teams to lose good cheer, flexibility, and the ability to ask questions. Each person defended their views and became critical of all else.
We get very rigid when we're in a negative or pessimistic state. Negativity constricts thinking, puts us in a defensive crouch, and prevents us from seeing the bigger picture.
Positive emotions broaden and build. Negative emotions hold you back. Positive emotions make you more curious. You explore more, take more initiative. You're looking outward, open to connection and trying new things and interacting with others. Negativity constrains your experience. A negative frame of mind puts you in "leave me alone" bunker mode. You're on alert.
Negative emotions change the way you feel about the world and interact with others. They reduce your possibilities and undermine esteem. They also affect your relationships in a big way. When you're irritated and grumpy, you get less interest in your ideas, cooperation, and support.
THE 3-TO-1 RATIO
The negative side is much more powerful than the positive, so we have to be proactive about bringing the positive forward. The University of North Carolina's Barbara Fredrickson has found that we need three positive to one negative event to stay in the positive camp and flourish. Only one in five people meet the 3 to 1 ratio. In relationships it's five-to-one positive to negative.
When you start out on the positive side of the ledger, you don't have as far to travel emotionally to connect with someone, to enjoy yourself, to be spontaneous or jump into something new.
How can we shift our moods so that we can limit the negative sway over our thoughts and emotions? We can do it by:
1) reducing the negativity in our lives
2) changing the way we react to events
3) having more positive experiences
4) choosing intrinsic goals that bring the most satisfaction
Reducing negativity is the fastest way to increase your positivity ratio. Some negativity keeps us grounded, but we don't want it locking us into incessant cogitating over problems. As Mark Twain once put it, "Drag your thoughts away from your troubles...by the ears, by the heels, or any way you can manage it."
Negative emotions tend to overwhelm the rational brain with raw emotions. The tendency is to ride the emotional wave without questioning whether the belief driving it is valid.
AVOID RUMINATION
We have to learn how to dispute negativity and not reflexively buy in on autopilot. When you find yourself clinging to negative thoughts, dispute them like a good lawyer would. Are they based on anything valid, or it just "awfulizing"? Is the thought useful? Accurate? Round up the facts and put them to the test.
When you fail to dispute negative thinking, the false beliefs become entrenched and can lead to days or weeks of ruminating over a setback or comment. Rumination is dangerous. You go over and over the same story, locking in a false belief, which then dredges up other negative thoughts.
You can exit the rumination track by avoiding replay mode and letting go of the thought loop.
—DISTRACT YOURSELF. Find healthy distractions—the gym, meditation, music—that force you to focus on something else.
—MINDFULNESS. Learn to accept a thought as just a thought. You observe without judgment and refuse to grab the thought just because it's in your head. Thoughts aren't real. Only experience is real.
—REFRAME PROBLEMS. Reappraisal is the secret of people who can keep setbacks from turning into prolonged blues. The choice is yours: half-full or half-empty.
Increasing the positive in your day doesn't happen on its own. You have to proactively do positive things, from hobbies to exercise, recreation, listening to music, and reaching out to others.
We may not be in charge of much in an unpredictable world, but we can control our minds and how we think about what happens to us. And that controls everything.
If you are interested in bringing the power and science of optimism and the high performance that comes with it to your organization, please click the button below for details on my work-life balance trainings and keynotes.