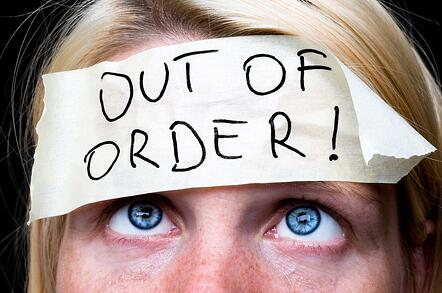 Some companies won't even use the word "stress," hoping that avoiding the term will make a very toxic problem go away. Meanwhile, many imploding professionals are equally in denial about their stress. "It's part of the territory." "Got to suck it up." Meanwhile, their purses or desk drawers look like pharmacies.
It's no wonder that unmanaged stress costs American business $344 billion a year in medical bills, absenteeism, and recruiting and retention bills, according to a study at Middle Tennessee State. And no surprise, either, that more than three-quarters of all doctor visits are stress-related. Ostrich-mode is making us sick and unproductive.
Why do so many companies, big and small, ignore the time bomb of stress, the crisis mentality, frenzy, dysfunctional teams, anger, resentment, and panicked thinking that comes with it? Habit. That habit is to look the other way, because stress is 1) the employee's problem, a personal issue; 2) not that big of a deal; 3) something that only happens in tyrannical companies; 4) an admission that something's not working; and last and most importantly, 5) lack of information on what stress is and how it spreads through a company to make everything more difficult and costly.
The reality is that in a time of hyper speed-up and lean staffing, stress—triggered by a perception of not being able to cope with demands—is at epidemic levels, and it's a threat to every organization. If stress was an infectious disease, it would be the Center for Disease Control's public enemy number one.
Yet too many believe stress isn't all that serious, or something only wimps succumb to. Talk to Tom Row, a hard-charging scientist with a 70-hour a week schedule, who one day found himself leaving his office on a stretcher after a massive heart attack. He didn't even know he was stressed, because the adrenaline flowing through his body made him feel transcendent.
Or hear it from an entrepreneur I spoke to recently who had a heart attack in her twenties. Or from the host of folks whose marriages have disintegrated because of the hair-trigger emotions, fear, and exhaustion set off by stress and burnout. Stress can turn you into someone you'd normally run from.
Contrary to the denial reflex, chronic stress has real health and business consequences. Ignore it, and it won't go away. It will only get worse. When the stress response is activated, the immune system is suppressed, digestion processes are upended, blood pressure rises. The longer that goes on, the more physical problems erupt. Ignoring stress is like working with one hand behind your back, and one foot at the doctor's doorstep. The longer we buy the false emergency, the more our thoughts come to believe the distortion of events is real.
If companies knew how damaging stress is to anything the organization is trying to accomplish, they wouldn't put up with it for a nanosecond, because that would be like burning money. They would make stress management and work-life balance programs as much of a priority as the next quarter's earnings, because those earnings depend on healthy, engaged minds and bodies.
Stress guts the chief productivity tool, attention, which is hijacked by an ancient part of the brain that can't see beyond false crises—not good for planning, conversation, innovation, anything that requires concentration and openness. Stress is plenty good, though, for mistakes, rash emails, and disengagement.
The failure to nip stress in the bud means that this toxic cell spreads through the organization. Stress is highly contagious and is transmitted easily through pass-along strain and the mirror neurons that make our bodies echo the emotions of those around us.
Unlike a lot of diseases for which there is no solution, there is a cure for stress. The stress response is set off by a false story that can be shut off, and when it is, the stress stops in four minutes. How valuable would that be, to be able turn off the source fueling anxiety, conflict, and disengagement? More than 40% of employee turnover is due to stress. The cost to recruit and train top talent can range upwards of $100,000.
How much better could work and life be without the vise-grip of fear and anxiety caused by stress? Without the churning stomach, headaches, high blood pressure, and insomnia?
I can tell you, "a lot," because I see it regularly after our work-life or stress management trainings or in my coaching work. Teams go from wits end and overwhelm to a workday they can manage. Individuals move from fear and frenzy to a calm firmness amid chaos. It's day and night when you have the tools to keep stress at bay.
There's nothing to deny or feel embarrassed about with stress. It's part of the funky brain architecture we're stuck with. It's part of organizations, even the best ones. It's part of a volatile world. But when it persists, it's also a very clear signal that something is wrong with the picture.
If your organization or you would like to change that picture, click below for a free consultation and learn how fast you can transform your team and life.