WORK-LIFE BALANCE
Work-Life Balance Programs Fuel Engagement
OUR WORK-LIFE balance programs help your team manage time, stress, devices, distractions, focus, health, and navigate the work-life divide. Whether the challenge is overwhelm, change, low morale or work-life survey scores, or high stress, we support your talent with the latest research tools to help them work smarter and feel valued.
Employees who feel they have good work-life balance work 21% harder than those who don't, reports the Corporate Executive Board. That extra effort is the definition of employee engagement—and the dividend of great morale.
Increase Performance and Work-Life Survey Scores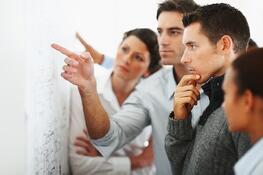 SO WHAT IS WORK-LIFE BALANCE, ANYWAY? It's a strategy of adjustments to work and life that allows your team to feel their responsibilities are under control. We show your team how to work more productively, control demands, be more engaged and optimistic, and activate the most gratifying life.
OUR WORK-LIFE BALANCE WORKSHOPS and keynotes guide your team through the latest science to equip them with better ways to work, from time management, to stress management, attention management, device management, interruption management, refueling strategies, wellness tips, and living a more gratified home life. With so many improvements, it's no wonder studies show that work-life balance programs increase, not just effort, but retention and revenues (right column).
Actionable Tools Wherever You Are on the Globe
WE USE THE LATEST RESEARCH tools to help teams and individuals work smarter. We equip organizations around the world with strategies to solve the challenges of an unbounded world.
The focus is on adjusting work style for better work, health, and life outcomes. Our work-life balance training provides strategies to:
| | |
| --- | --- |
| | Manage demands, pressure, pace |
| | Build smarter performance |
| | Control email and information overload |
| | Manage interruptions and attention |
| | Improve time management |
| | Develop prioritization and time estimation skills |
| | Refuel brains and bodies |
| | Navigate the work-life divide |
| | Improve health and wellness |
| | Activate the most fulfilling life |
Unleash the Engine of Engagement
THE MAIN DIMENSION OF ENGAGEMENT IS ENERGY, vigor. The brain fatigues well before the body. Our chief productivity tool needs recovery strategies to operate at full capacity.
OUR EMPLOYEE WORK-LIFE BALANCE PROGRAMS help your team refuel attention with practices the science shows increase focus and productivity during the workday and, after work, that reduce fatigue and bring more positive affect to the office the next day. We also help your team activate the fullest life outside work, helping them unlock experiences that fuel optimism and satisfaction.
Learn More and Get a FREE Work-Life Balance Survey
CLICK THE PRICE button at the top of this column to get more details and highlights of our work-life balance programs and learn how a training or workshop can supercharge morale and engagement. If you're in the research phase, click the button below to give your team a free work-life balance survey.