Work-Life Balance Coaching
Stuck? Unleash Your best work and life
AT AN IMPASSE with work or life issues? Coaching can help you break through with new strategies and options. My coaching philosophy is simple. I want to help you overcome challenges and reach your goals as quickly as possible, using practical, proven strategies from the research to make it happen.
We are not born to be stuck. Our brain neurons want progress and movement. What would you like to make progress on? Get stress under control? Sleep better? Overcome a setback? End burnout? Manage a difficult boss or person? Motivation to achieve your goals? Create a happier, more gratifying life? I would love to support you to make it happen.
One-on-One Coaching That's Fast & Affordable
OF ALL THE WORK I DO, coaching is my favorite, because I get to work with people who are determined to push through roadblocks and realize their potential.
I work with you in phone or Skype consultations to identify your goals and challenges and chart a path to the work and life you want. We make key adjustments to work style, build more effective practices, help you manage demands and difficult people, get strategies to move past setbacks, build motivation to reach your goals, and activate a happier life. It's effective, affordable and fast.
I'd like to share a few audio clips to give you a taste of what the consultations can cover. Check these out:
Turning Off the False Danger Signal of Stress:
The Crazy in Crazy-Busy: Time Urgency
The Happiness Percentages:
Proven Strategies for Success at Work and Home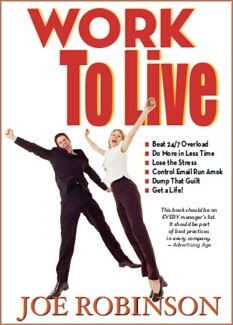 MY PROGRAM USES AN ARRAY OF TOOLS and strategies that are available in the research, but that we never hear about. It's based on proven training practices that I've brought to organizations from IBM, to Kellogg's, and the University of California at Los Angeles Counseling Center and written extensively about in my books, such as Work to Live and Don't Miss Your Life, audio programs, such as The Email Overload Survival Kit, and in articles for publications from Entrepreneur Magazine, to Fast Company, to the Los Angeles Times.
WHO DO I COACH? People from all walks of life from all over the globe via Skype and phone who are interested in moving forward and removing obstacles in their way.
Like the real estate agent whose stress was so severe, she could only sleep three hours a night. Like Charles, the systems engineer in the video below who was overwhelmed by his workload. Like the CEO who had a heart attack. And didn't want another. Or the lawyer whose life was missing in action. And accountants, engineers, and everyone is between.
Get the 'Off' Switch for Stress, Set Boundaries
AS THE SAILORS SAY, you can't control the wind, but you can adjust the sails. That's what we do in one-on-one coaching, making adjustments that can lead to benefits like these:
Manage stress, end burnout

Control fear, awfulizing, and obsessive thoughts

Bounce back from setbacks
Manage difficult people, relationships

Improve time management skills
Set boundaries and speak up

Use the most potent motivation to achieve your goals

Increase optimism and happiness

Live the fullest life with no regrets

Break Through to the Work & Life You Want
I KNOW COACHING CAN WORK FOR YOU because I've seen it work time and time again—with quick, dramatic improvement on work issues and a clear path to achieve goals for success on the job and off. Here's what one client said:
"Joe's advice gave me the courage to take back my life, challenge my fear of imperfection, and realize that guilt is a choice. Thank you, Joe!" —Kristen, government attorney
Get Your Life on the Calendar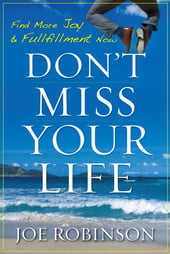 THE OTHER SIDE OF THE WORK-LIFE HYPHEN, life, often gets overlooked, but it is key to work, and, of course, it's what the work is all about. How we recharge and engage with our world off-the-clock fuels performance on the job, connects us with family and friends, and provides the gratification of a life well-lived.
In my book, Don't Miss Your Life, which shows through the science and passions of life enthusiasts how to activate the fullest life, a brave Texan named Heather Burcham put it into perspective. She was diagnosed with a terminal case of cervical cancer in her twenties and set out to live as much as she could in her remaining months. She said, "You are so lucky. You get to live every moment." And we do--if we act.
Sign Up for a Free Introductory Consultation
NO MATTER HOW HECTIC YOUR SCHEDULE, how busy you are, you can do this. It's as convenient as your phone, affordable, and the benefits last a lifetime. See why clients say this is one of the best moves they have ever made and wished they had done it years earlier. Call 310-570-6987 or click the button below for a FREE, no-obligation consultation.